At the Threshold
The Threshold – as a spiritual concept – is well known in mystical literature. We are familiar with the Sufi poets who refer to the Threshold of the Beloved. Meher Baba was fond of a certain couplet from Hafiz in which the poet says: "This Majestic Love lies far beyond the reaches of the intellect. Only one who carries his life on his sleeve dares to kiss the threshold of this Love."
I remember Meheru once speaking about the sanctity of the threshold of Baba's Samadhi. She said that the threshold is symbolic of the passing from our world to His World. When we cross the threshold we leave ourselves behind; we enter His divine realm. Perhaps we take a slight pause at that juncture to become silent within. And the threshold itself assumes a sacred position in our hearts.
On the morning of September 30, 1954, the day Baba gave His Final Declaration, He led a large group of His lovers up Meherabad Hill to His future tomb. Baba stood on the platform (no longer there) at the side of the tomb and told those gathered that this stone structure with its interior crypt was the site where His body would be interred. He asked that the doors be opened and that each one should file past to see the interior before returning to lower Meherabad. Without entering, but pausing just there at the threshold, each one was able to look inside at the open crypt and the glowing murals adorning the walls. Though Baba was standing there with them, in reverence they bowed their heads on the threshold of their Master's final resting place.
When Baba's Samadhi underwent restoration under the direction of Baba's sister Mani (1990-1993), the threshold at its door was given special attention. The teakwood piece had always been painted the same as the rest of the door frame, but Mani decided the beauty of the natural wood grain was more fitting for the threshold. So it was stripped and fine-finished, and given a protective transparent coating. The unique character and beauty of the wood could now stand out in its special place at the doorway.
Those blessed Samadhi walls continue to glow in the hearts of His lovers who enter, and the precious threshold sits humbly upholding its role, inviting us to step inside.
—Irene Holt for Avatar Meher Baba Trust, 12 February 2015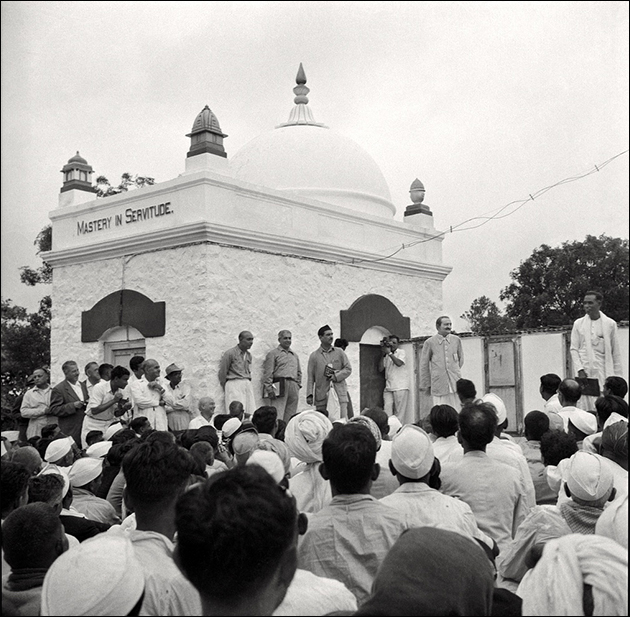 Baba standing on the platform next to the Samadhi, with men called for the Final Declaration
meeting, 30 September 1954 (Photo courtesy MSI Collection)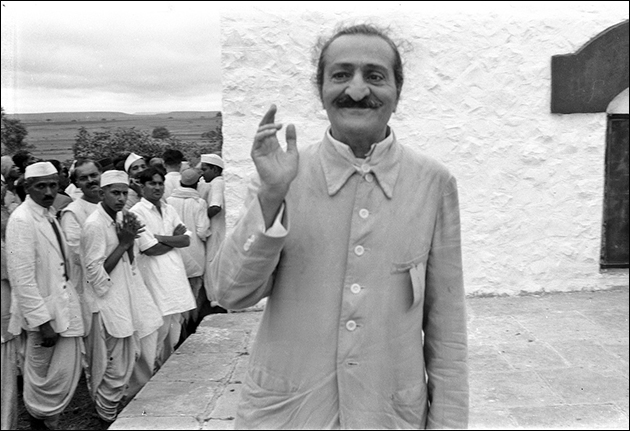 Baba on the platform, 30 September 1954 (Photo courtesy MN Publications)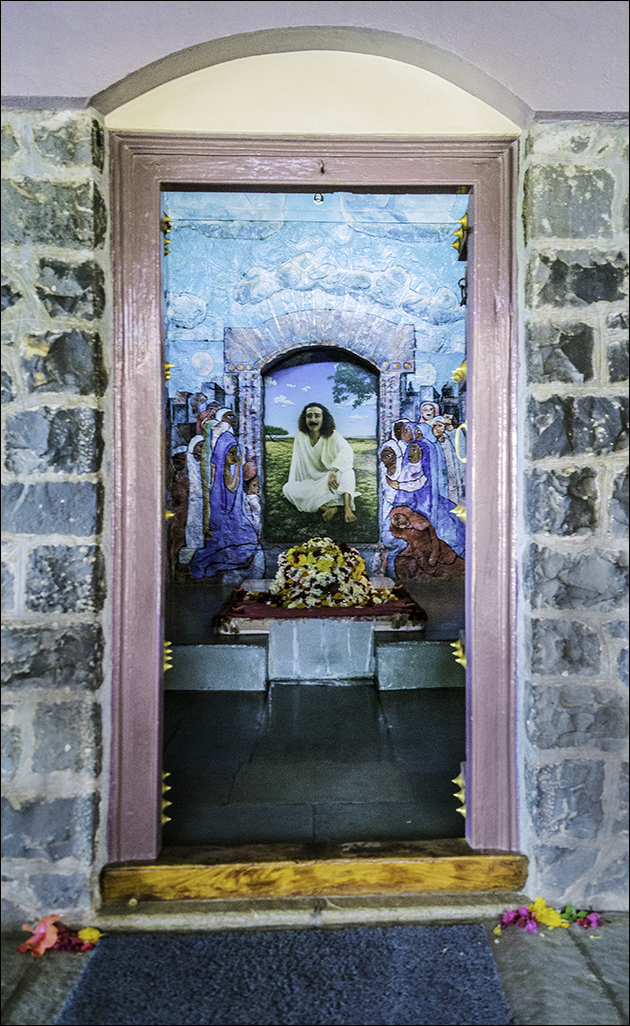 Samadhi entrance and threshold today. (Photo courtesy Paul Liboiron)