Medical care to the nearby community is an important avenue of service by which the Trust tries to bring the spirit of love into practical expression. Meher Baba himself incorporated medical clinics into many of his ashrams, and he identified the provision of medical service to the public as an object in the Trust Deed. Trust medical treatment is provided free of charge.
Meher Health Centre
This is the primary Trust medical facility. It was opened in 1975 on the grounds that used to be called "Family Quarters". It provides basic out-patient health care for about 130 patients a day, most of them poor farmers from Arangaon and surrounding villages.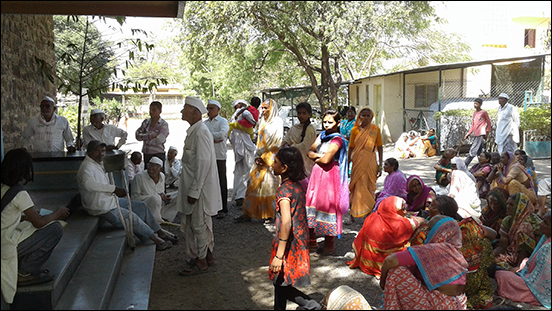 Patients waiting outside the Meher Health Centre.
Three doctors work in MHC. There is also a daily homeopathic consultation. Various specialists visit the Health Center: ophthalmologist once a week, pediatrician once a week, gynecologist twice a week.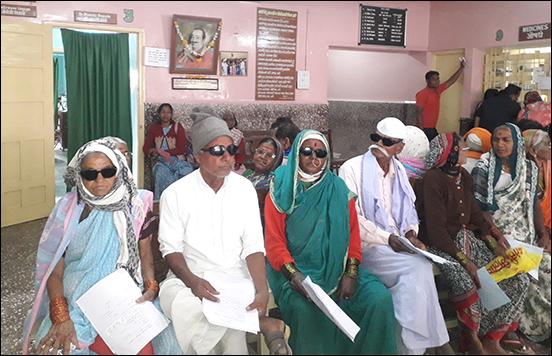 Patients seated in the waiting hall. Those with dark goggles are coming after recent cataract surgery.
A dental clinic is open three days a week.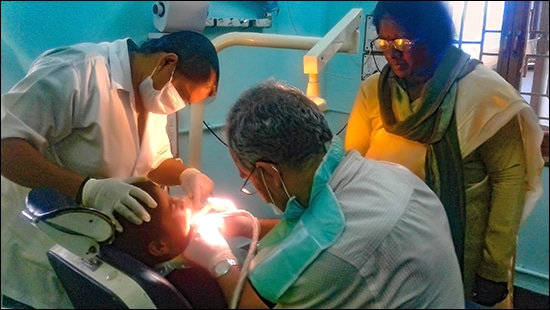 Dentist at work in the Clinic.
Common afflictions treated at the Centre include respiratory infections, skin problems (where homeopathy has great success), all kinds of wounds and injuries, and the "modern" diseases of diabetes and high blood pressure.
A laboratory with modern equipment performs basic tests free of charge (blood count, blood sugar level, urine test, malaria, and dengue tests are the most common ones).
Meher Pilgrim Retreat Dispensary
This outpatient clinic ministers to the medical needs of Meherabad pilgrims, many of whom hail from abroad and thus are unaccustomed to health conditions in India.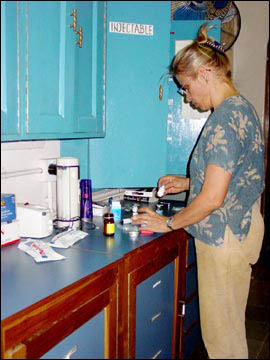 Nurse preparing medications in the dispensary
The Meher Hospital
This facility hosts a daily consultation for Trust employees and their families.
Every month, an ophthalmic surgeon performs cataract surgery with an intraocular implant for about one hundred patients a year. This surgery is totally free of charge.



A view of the operating theater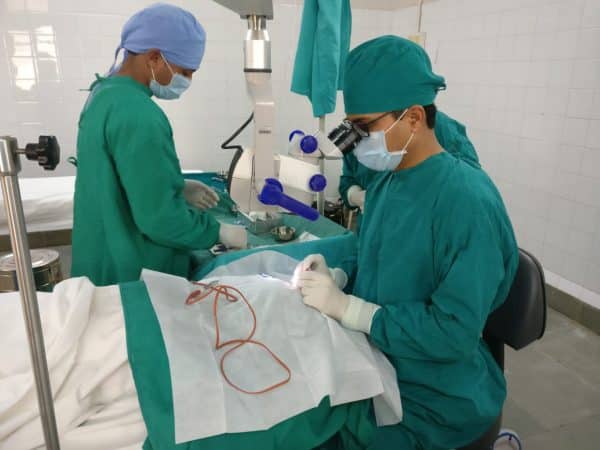 Eye surgeon at work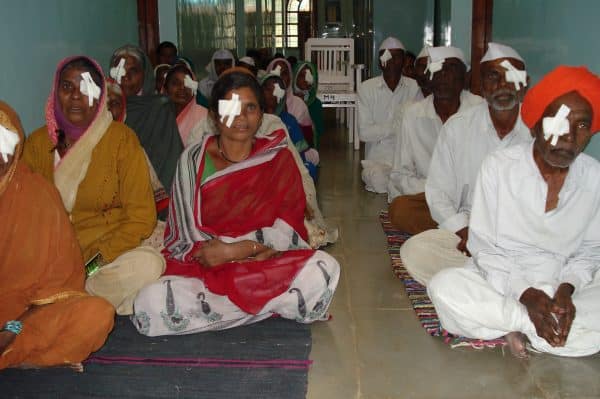 Operated patients listening to the post-op instructions.
The Meher Hospital does not yet function as a full-time hospital, except for Amartithi and Silence day, thanks to a dedicated team of doctors and nurses who volunteer their services for these special events. Meher Hospital will be expanded into one fully operating hospital as part of the Trust's Master Plan.
Meher Free Dispensary (Homeopathy), Meherabad
The Meher Free Dispensary is the longest-running medical facility in Meherabad. It was proposed by Dr. Ghani and approved by Meher Baba in 1936, and was originally practiced from His Jhopdi. Its current location is opposite Meher Hospital at lower Meherabad. It's open three days a week, seeing an average of twenty-five patients daily. Many patients come from Meherabad and Arangaon, some come from throughout India and the world to receive treatment. The Meher Free Dispensary has been an inspiration to many students of homeopathy for decades and continues to supply homeopathic medicine to the other medical facilities in Meherabad and Arangaon.