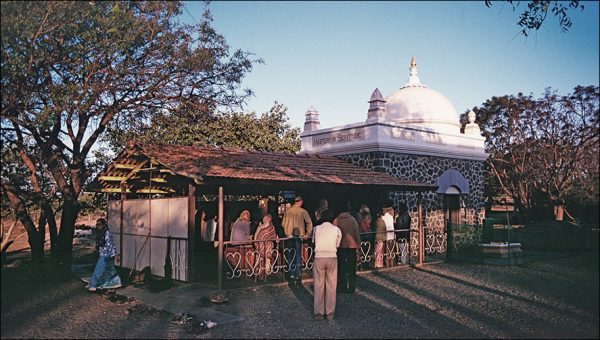 ARTI – Prayers and devotional songs are offered at Meher Baba's Tomb at Meherabad twice daily at 7 am and 7 pm. The Tomb is the heart of Meherabad, and morning and evening arti are the main activities that take place there.
THE DHUNI – The sacred fire or dhuni is lit at Lower Meherabad on the twelfth of every month, in accordance with Meher Baba's instructions. The first dhuni was lit by Meher Baba himself on 10 November 1925.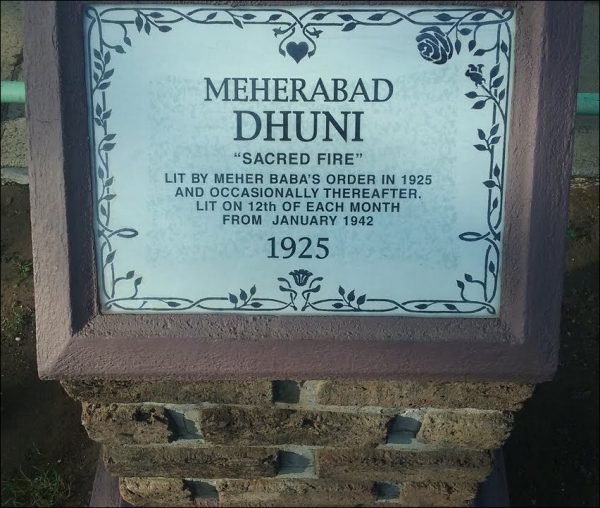 VISITS TO MEHERAZAD – Meher Baba's residence in Meherazad may be visited three days a week: Tuesday, Thursday, and Sunday. The Trust provides bus service to Meherazad on these days. At Meherazad, Meher Baba's disciples (known as the "mandali") share with visitors memories from their close association with the Avatar. Baba's bedroom, Mandali Hall, and the beautiful gardens with flowers and trees — created by Mehera, Meher Baba's closest woman disciple — are special sites of interest.
FILMS – Films and videos of Meher Baba are shown several times weekly at the theater at the Pilgrim Centre in Meherabad and at Mandali Hall, Meherazad. Never before in recorded history has the living image of the Avatar been captured and made available to humanity in this medium.
INFORMAL TALKS – Persons who met Meher Baba share their accounts and reminiscences with pilgrims in informal talks at the Pilgrim Centre, Meherabad. These personal memories provide wonderful glimpses into the ways of the God-Man as love personified.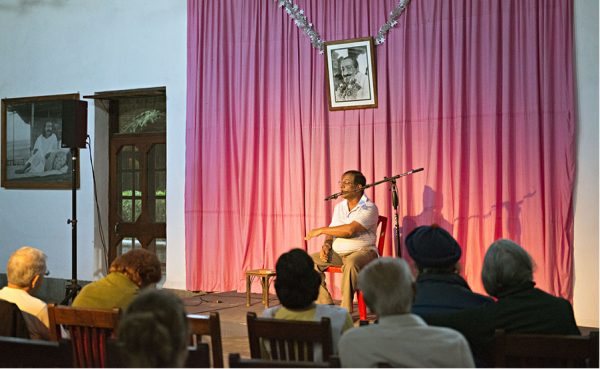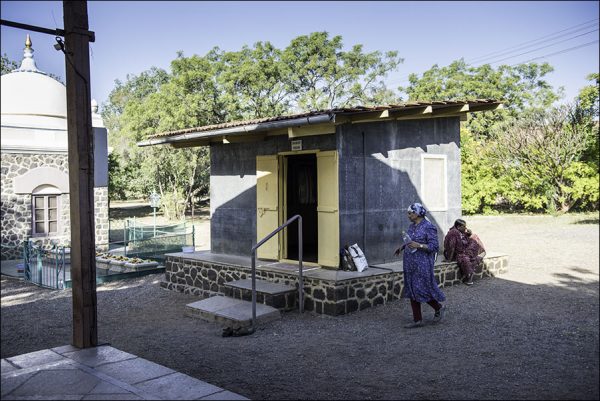 A GUIDED WALKING TOUR – Major historic sites at Lower and Upper Meherabad — such as the Jhopdhi, Table Cabin, the Rahuri Cabin, Dharamshala, Mandali Hall, Meher Retreat, and Samadhi — are introduced on the weekly guided walking tour. Plaques marking important sites give information for those who would like to tour Meherabad at other times.
MUSIC, DANCE, DRAMA, AND FILM – The Meherabad theater provides a venue for a wide variety of artistic programs on a weekly basis. About once a month Meherabad plays host to a dramatic performance put on by one of the Baba groups in India or other parts of the world.
SPORTS – Volleyball, soccer, and other games provide a daily recreational outlet for pilgrims at Lower Meherabad. Meher Baba himself was fond of sports and games, and such activities have always been a part of the life of the Meherabad ashram.