Poems at Dhuni Time
"Oh Dhuni of Meherabad, how can I express in words your qualities?" booms out a voice over a small crowd. It is the beginning of a poem written in a mix of Gujarati and Hindi by Meher Baba in 1925, as translated by Padri. In the middle of the group is a blazing fire—the Meherabad Dhuni—and the date is the 12th of the month.
The history of the Dhuni is familiar to many readers of On Sacred Ground from the recent Dhuni article (http://www.ambppct.org/dhuni.php), or from Lord Meher (Bhau Kalchuri's biography of Baba). Many have also personally attended and often noted that two poems are always read out during the Dhuni. This is the story of how that came to pass.
One of Baba's intimate men mandali, Padri, presided over the Dhuni for many years before and after Beloved Baba dropped His Body. Padri had been at the first Dhuni in November 1925 and the next day had taken part in the poem-writing contest about the Dhuni that Baba held for the men mandali. All the mandali read their poems aloud. Rustom Irani won first place, Padri came in second, and some others also wrote good poems. At the end of this competition, Padri recalled that Baba said, "You're all cracked; I'll have to write it Myself." The poem Baba Himself wrote naturally outmatched any of the others.
Baba at the Dhuni in 1954 with a man playing the traditional Maharashtrian horn.
(Photo courtesy of the MSI Collection)
Perhaps you have read His entire poem in English in Lord Meher or in The Glow, a long-time Baba magazine. Around 1978 or '79, Alan Wagner, a Meherabad resident, happened to come across Baba's Dhuni poem in The Glow and showed it to Padri who looked the poem over and said, "Give it to me, mister!" (Of course, the magazine was handed over to Padri immediately!)
A couple of days later, Padri gave the magazine back to Alan, with his own English translation written separately. "Read this out at every Dhuni," came the instruction, and from the next Dhuni onwards Alan has done so. The first stanza reads:
"O Dhuni of Meherabad, how can I express in words your qualities? My pen is utterly incapable! Your flaming mercy descends on all, that wondrous gift to mankind!"
A couple of years later, out of the blue Padri handed over a small booklet that contained another poem. He told Alan to also read that poem aloud at every Dhuni. It is "The True Teacher" by Francis Brabazon, with an unforgettable description of Baba. It begins:
"The True Teacher is that one
who, having no need to come, for my sake came;
having no need to remain, for my sake remains;
and who, having no need to go, will for my sake go …. "
And ends:
" … who, in fact, is the supreme Reality
but appears to my eyes as very man, to my mind as
Rightness
and to my heart as the ineffable Beloved who may be
approached and attained. "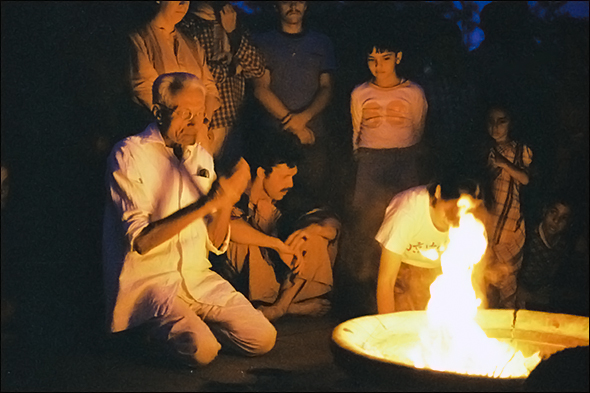 Padri at the Dhuni in March of 1979. (Photo by Win Coates)
Once during an Indian summer when there were just a few "regulars" there, Alan quietly decided that most were tired of hearing him read the two poems at every Dhuni. With this in mind, he left out reading "The True Teacher." Towards the end of the Dhuni, Padri turned to Alan, "Where's that other poem?"
"Well," Alan replied, "I thought that people might be bored with me reading it." Padri's response was straightforward: "Go get it. I told you to read it out at every Dhuni." Of course, Alan went, got his copy of the poem, came back and read it out.
Nowadays Jal Dastoor, who took over the Dhuni arrangements after Padri passed away, expects the two poems to be read out during Dhuni time.
As time passes, naturally the reading of these poems at the Dhuni may fade away. But Meher Baba's sacred fire will continue to be lit the 12th of every month. After all, as He wrote:
"You are My fiery staff performing your duties through My order of Mercy."
— Heather Nadel for Avatar Meher Baba Trust, 14 September 2017