"You Can Go Now …"
Out of the blue one day, Mani told me that the Perfect Master Tukaram's sister had died from cancer of the lung. As I remember it, she said, "They called it TB but in those days no one knew about cancer." And at the time I had the distinct impression she was somehow connecting this to herself.
Years later, in 1995, Mani began experiencing significant weakness in her legs. A trip to Pune for an MRI and a visit to the doctor required her to spend the night, and she stayed at Baba House for the first time in years. This marked the last night Mani would ever sleep in her childhood home and the beginning of a long and difficult journey into her "Godbrother's" arms.
It turned out Mani needed a shunt in her brain to relieve fluid build-up, which was causing the leg weakness. Of course this gave everyone pause, but also a sense of relief that something could be done to alleviate her symptoms.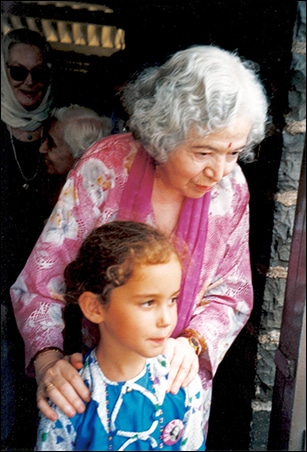 Mani emerging from the Samadhi, leaning on a child as her "walker,"
with Jane Haynes and Dr. Goher in the background, October 1995.
Mani, naturally concerned, turned to Aloba and his precious book of Hafiz (the Persian poet and Perfect Master), asking him to do a fal* on her behalf. The women mandali waited anxiously for Mani's return from Aloba, hoping that the message would be a hopeful one. But Mani came back to the house in a very serious mood, entered her bedroom without saying a word and drew the curtain over the door. She never revealed what Aloba had told her.
In spite of what sad news she had obviously received from Hafiz, with great courage Mani went forward to Pune for the surgery which, happily, was a success. Her leg strength and energy returned and everyone became optimistic about Mani's future. But only one month later, after a lovely Christmas morning program at Meherazad, Mani's leg strength faltered as she climbed the stairs to the Main Bungalow for lunch. It seems the shunt had blocked and the fluid was building up again.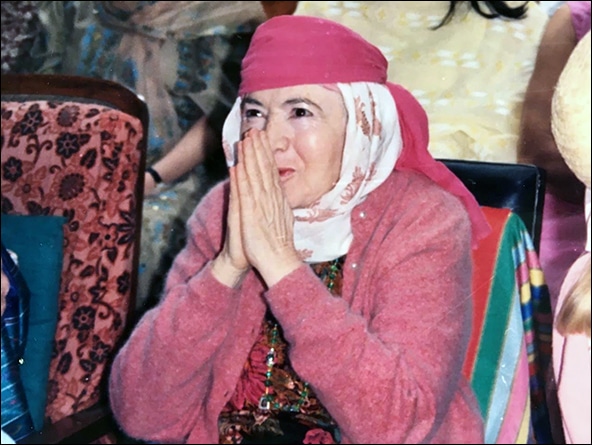 Mani with head scarves covering her first shunt surgery, December 1995.
(Print from Mani's personal collection)
Back to Pune she went for another surgery to replace the shunt, but this time Mani's symptoms persisted—it was not a success. And while we were there in the hospital, Mani received a call from her nephew-in-law, Jangoo Sukhadwala, informing her that, due to termites, a large roof beam in Baba House had crashed through the drop ceiling onto the bed exactly where Mani had slept just months before. A worrisome omen. …
In addition to the weakness and fatigue, Mani also began experiencing pain in her lower back. This pain grew to such a pitch that a CT scan was done which revealed a mass near her spine. So Mani was admitted to yet another hospital in Pune—but this time she was worked up for cancer. Further investigation revealed that, not only did she have cancer of the adrenal gland, she also had a tumor in her lung, harking back to the story she had told me of Tukaram's sister.
Mani returned to Meherazad, where her condition painfully and slowly deteriorated until she was unconscious. The women mandali and a team of care-giving resident women were always nearby, tending to every need of this remarkable being. But her suffering broke our hearts. And it was clearly just a matter of time—Baba's time of course.
We wondered when Baba would take her into His embrace. At first we thought she was waiting for someone. Then there was a special Catholic holiday—the Ascension of Mary—and we speculated that since Mani had such a special connection with Catholic saints and nuns, maybe she was waiting for this day. But on that day Mary ascended and dearest Mani remained with us.
On and on we found ourselves wondering until one morning, on the 19th of August at 6:30 a.m., as we were wearily embracing the new day, Goher, Mani's long-time companion and doctor, suddenly appeared in Mehera-Mani's room and approached the foot end of Mani's bed. She placed both her hands on the footboard and leaned forward as if reaching out to Mani and said, "It's okay Mani, you can go now." Then she quietly turned and walked out.
And thirty-one minutes later Mani's eyes suddenly opened wide as if gazing intently into those of her Beloved and, just like that, she was gone. We were all astonished. After all our pondering and wondering, predicting and hypothesizing, it was Goher who, silently bearing her own grief, not letting on to anyone her anguished reluctance to let Mani go, finally gave her the green light to rush into her Beloved's arms.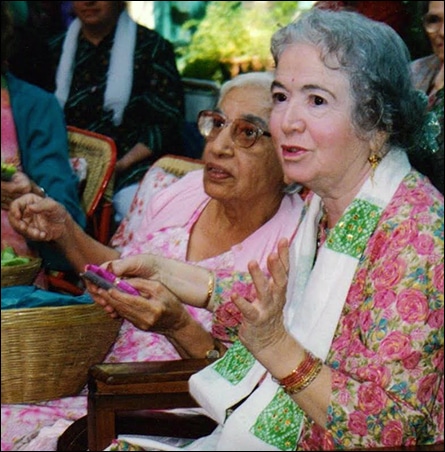 Goher and Mani during Christmas at Meherazad, early 1990s.
(Print from Goher's personal collection)
—Shelley Marrich for Avatar Meher Baba Trust, 21 July 2016
* Fal or fale—the custom of asking a question of Hafiz and finding one's answer by opening the Divan-e-Hafiz at a random page.