Baba's New Roof
Since March 1, 2015, a team of brilliant and incredibly hard working Baba lovers have been, as it were, "Above Sacred Ground". They've poured their hearts, souls and bodies into the AMBPPCT (Trust) sponsored reconstruction of the Main Bungalow roof in Meherazad that extends over both Beloved Meher Baba's and His Mehera and Mani's bedrooms.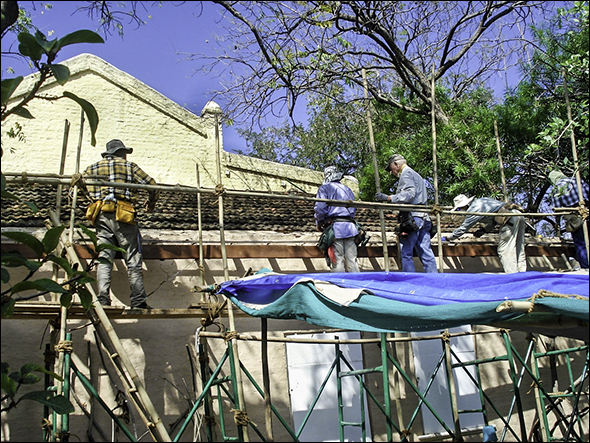 Aaron, Chris, Mike, John and Michael.
The photo above shows the inside of the original roof over Baba's bedroom with its classic construction of teakwood rafters, battens, clay tiles, and a false ceiling of cement fibreboard. The sanctity of this space is overwhelming and the thought of trying to improve on this roof, God's roof, would have been folly save the fact that after 67 years of service it was no longer able to keep the ceilings over Baba's and Mehera-Mani's bedrooms from leaking during the rainy season.
Before the reconstruction began great care was taken to protect the original false ceilings. Bamboos, plywood and soft cloths were used to support the junctions between the fragile cement fibreboard tiles in both bedrooms. (Baba's bedroom is shown above.)
Despite it being completely devoid of furniture, the atmosphere in Baba's room remained hallowed and beautiful. One could not help but offer flowers on the spot where His bed usually rests. The coiled green wire on the wall is usually connected to Baba's bed and then also to a solenoid (electromagnetic) buzzer, which Baba would use to call Mehera and the women into His room each morning after the watchman left.
One could always feel Mehera's excitement when she'd describe what it was like to hear Baba's buzzer early in the morning! She'd quickly wash her hands and rush into Baba's room to greet Him, followed by Mani and the other women. Mani would delightfully mimic the sound of Baba's buzzer like this: "Triiiiing, triiiiing, tring-tring-triiiing".
And about Baba's room, Mani used to say, "Baba has put more of His physical presence into the walls of this room than any other room."
Here is a brief photo essay of the work on the roof which by His Grace will shelter Beloved Baba's and Mehera-Mani's rooms for another 100 years!
Avatar Meher Baba ki Jai!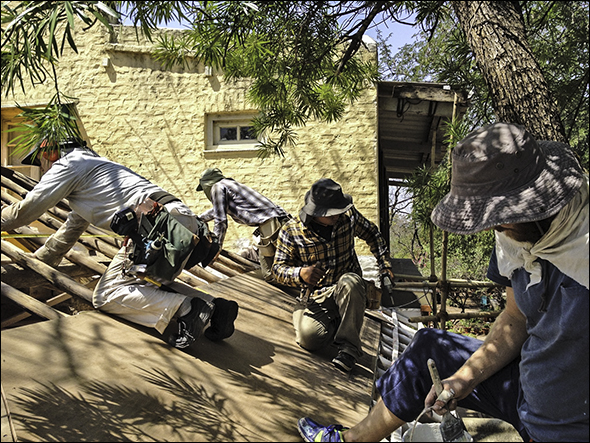 Team leader Chris Pearson guides Aaron and Michael Choi and Jacob Horsey.
Sadly a family tragedy took the Choi brothers back to the US about 2 weeks
after the roof project began. Their youthful energy was sorely missed!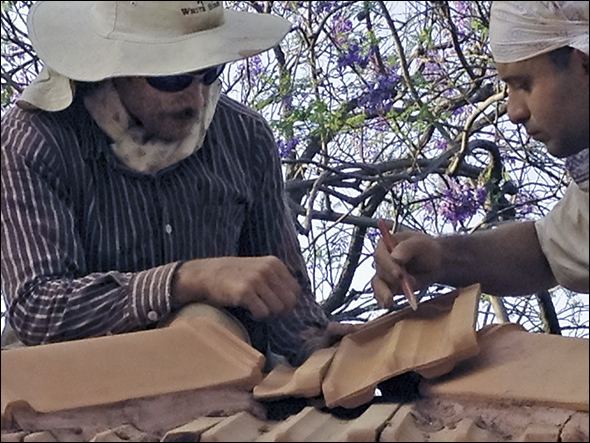 John and Abbas fit the very last of the new roofing tiles. Many of the original
tiles were rescued, washed, strengthened and put back up on the roof.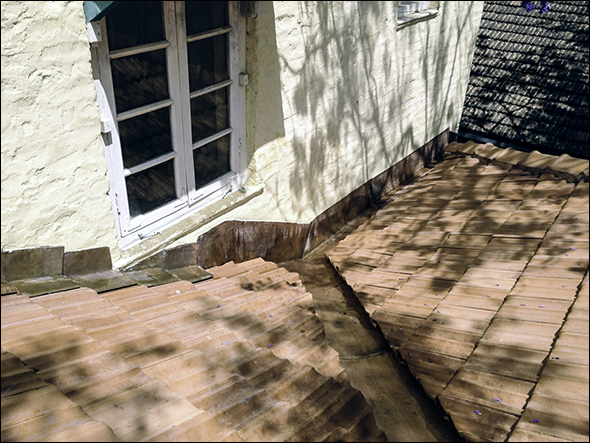 A completed roof with imbedded copper gutters to direct rainwater away from the walls
and off the roof! Baba's and Mehera-Mani's bedrooms below this roof were scraped,
plastered and given beautiful new coats of paint.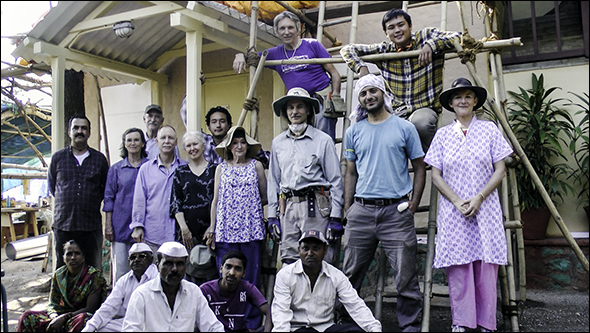 Team leader Chris Pearson was keenly aware that Beloved Meher Baba was the Real Chief of this
project! Here's the team: On the scaffolding in front of Baba's Room: Damien Triouleyre and Aaron
Choi. Standing: Shaheen Khorsandi, Kacy Cook, Mike Comerford, Chris and Christi Pearson, Michael
Choi, Shelley Marrich, John Giusto, Abbas Kiani-e-rad, Julie Lee-Morris Seated: Sonu, Kashinath,
Bhausia, Arjun, Balu, Santosh (missing)
So now, by Baba's Grace, the roof project and painting of the two bedrooms has come to a very successful end. Baba, Mehera and Mani have new hats and coats!
We await the day when the last of the construction and plaster dust has been washed away and with renewed confidence we can return the bedrooms to their new-old selves where Baba's lovers will once again greet Him in His room, enjoy His company, and be stilled by what He has to give us through His sacred belongings.
—Kacy Cook for Avatar Meher Baba Trust, 16 April 2015