Cooking in Baba's Kitchen
I had the greatest good fortune to cook in Beloved Baba's kitchen at Meherazad for nearly two years. Because Katie (Irani) was writing her cookbook and was not really well enough to continue to cook for such a large household, because I was taking a five-year career break, because Eruch had told me to give up staying in Pune (he probably thought I was having too much fun!) and come to serve in Meherabad and Meherazad—all these "becauses" allowed me to be at Meherazad and cook for the mandali in 2001-'02.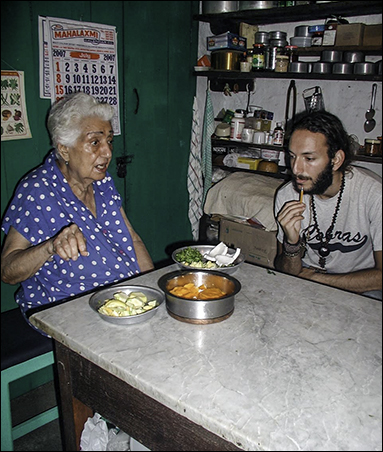 Katie holding forth in the kitchen to Zak Stern (who
now owns a bakery and café in Miami, USA), 2007.
It wasn't easy being cook to God's own close ones! There were almost as many dietary restrictions as there were mandali! By Baba's orders, Arnavaz could not eat bananas or peas, Manu couldn't eat anything sour (except lemons), nor could she have eggplant (aubergine), gavaar (a type of bean), or tomatoes. Bal Natu had a delicate stomach and he was on a "white" diet—eating only rice, dahi (yoghurt), potato, tapioca and the like. However, he had a great fondness for Khichdi (a spiced rice dish) and Taak Kudhi (a spicy buttermilk preparation). Eruch had many prohibitions—no oil, no sugar, no salt—because he had myasthenia gravis and was taking steroids for the condition. He would complain that all these "no's" meant "no taste." It was a definite challenge to cook food that pleased his taste buds but wasn't bad for him.
Katie had not really wanted to give up the kitchen work but Dr. Goher (who was also Katie's sister) insisted because Katie was having dizzy spells and could fall over and burn herself on a pot boiling on the stove. So, reluctantly, she allowed me in her kitchen and took herself off to write her cookbook (Cooking With Katie, which contains many delicious recipes from the Meherazad kitchen). I had never managed a kitchen before, and I had to learn quickly. My way of running it was more relaxed than Katie's and the kitchen girls and I would often sing as we cooked. Goher would comment that it was like having song-birds in there!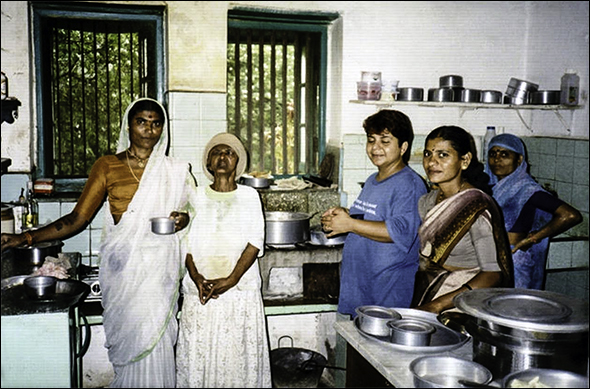 Cooking in Baba's kitchen with Saguna, Kesar, me, kitchen asst. (whose
name escapes me) and the other assistant cook at the time, Mira, ~2001.
Baba's kitchen has remained pretty much unchanged. During the time I cooked, we still had coal fires in two little "segdis" built into the counter. They were used to keep the food hot after it had been cooked, and were very useful! Unfortunately, we no longer use these. There continues to be a central prep table where the kitchen assistants cut and chop and mix. As always, the pots and pans are arranged along the walls and there are two built-in cupboards at one end where all the spices and other stores are kept. Food is prepared daily, but we do eat leftovers, too, and with great relish. Things always seem to taste better the next day, don't they?
One of our current cooks, Saguna, has been working at Meherazad since she was a girl and learned to cook under Katie. Her sister, Bhagu, was Naja's assistant and Bhagu also taught Saguna some of what she learned from Naja. Saguna is the mainstay of the kitchen and a great cook.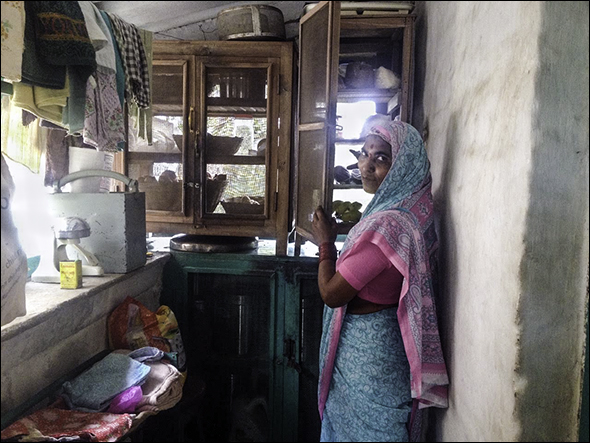 Saguna taking something out of one of the outside pinjaras.
This article is being written as we count down to the last few days we residents can cook in the original kitchen. On 1st July 2015 we will stop using the kitchen and it will be restored to what it was in Baba's time (all the newer gadgets and pans will go) and the cooking will be done in a building which was a storage godown, now converted into a kitchen. Since there are fewer residents in Meherazad, it is much smaller than the original kitchen. Visitors will be able to walk around the original kitchen and see how things were when Beloved Baba was here and ate food cooked most lovingly for Him by Naja. It is not the same as seeing a kitchen that is still functioning, but it will give you some idea of the simplicity that prevailed during His time with us all. We, however, will miss the joy of cooking in Baba's kitchen.
—Mehera Arjani for Avatar Meher Baba Trust, 4 July 2015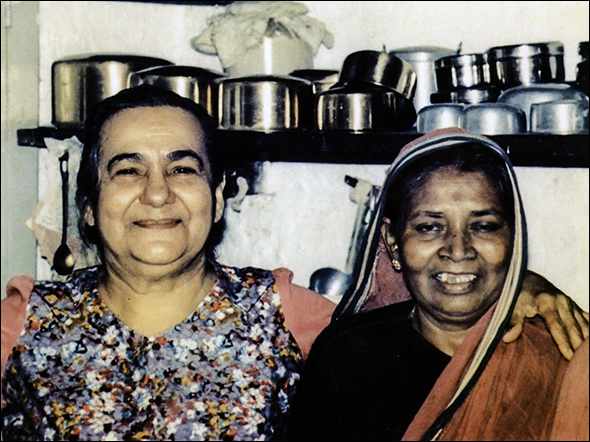 This photo of Naja with Rakhma, Naja's first assistant cook, will
be framed and placed in the original kitchen once it is all set up.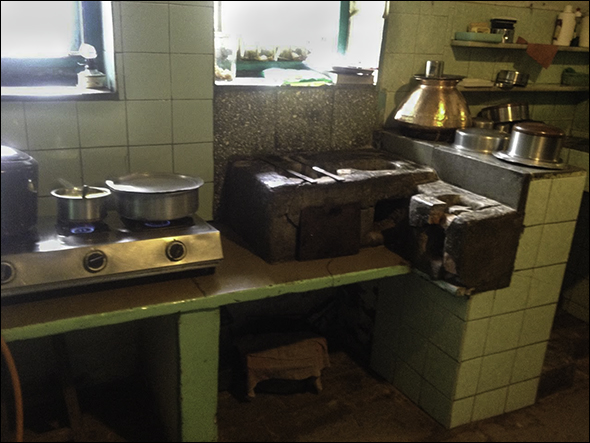 The cooking area, with the gas cooker to the left, the segdis (cement coal
burning stoves) on the right with the copper water pot by the window.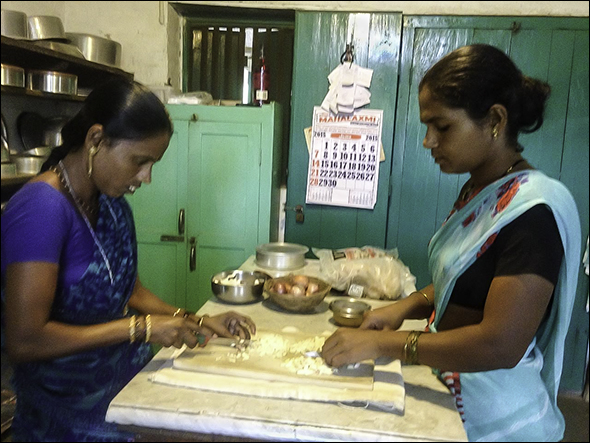 Geeta and Kavita preparing veggies in the original kitchen.