The Men Mandali's Cemetery in Lower Meherabad
Partially hidden by a hedge, the men mandali's cemetery is located between Gilori Shah's tomb and Meher Baba's Table House in Lower Meherabad. It is rather unremarkable—just two rows of nearly identical plain grey-tiled graves.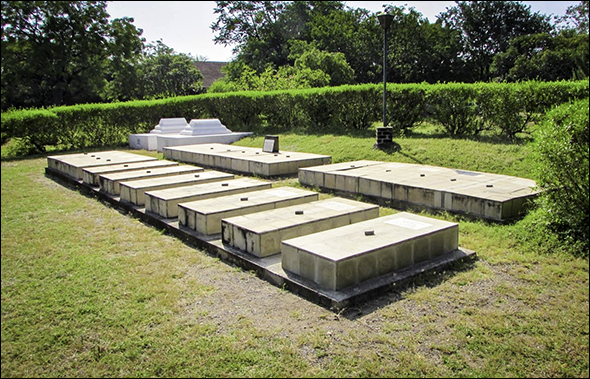 A recent photo of the men mandali's cemetery in Lower Meherabad.
Two white monuments at one end catch the eye. These are the tombs of Ali Shah and Mohammed, the two fifth-plane masts (God-intoxicated beings) who lived in Meherabad and helped Baba in His work. Ali Shah was the first to be buried here, in December 1956. Mohammed, the other mast, died almost 50 years later, in 2003.
Actually, Mohammed's grave had been dug in 1990, at a time when he was very ill and the doctor (that was me) expected him to die. But he came back from the brink and lived another 13 years. Eruch had told Ted Judson not to fill up the pit, so it remained open, waiting, all those years. When the time came to use it, the pit was not deep enough, and at its bottom was solid rock. But somebody with a motorized jackhammer happened to be doing a job in nearby Arangaon village, and Ted hired him to work through the night to deepen the pit. It was a minor miracle that this kind of equipment would be available right here in Arangaon, just when needed! God looks after the masts, even for their funerals!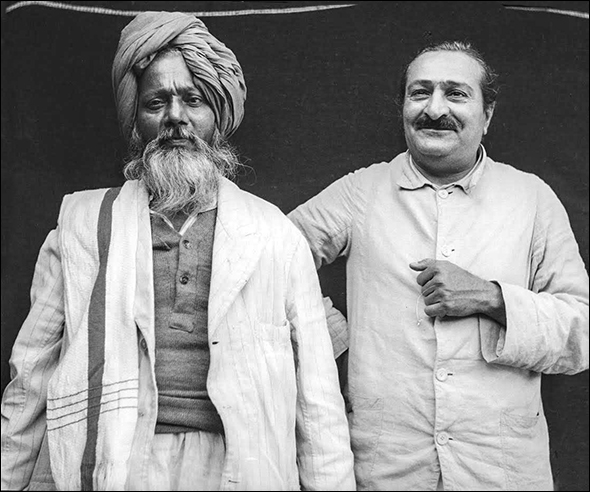 The mast Ali Shah with Baba in Satara, 1947. (Photo courtesy of the MSI Collection)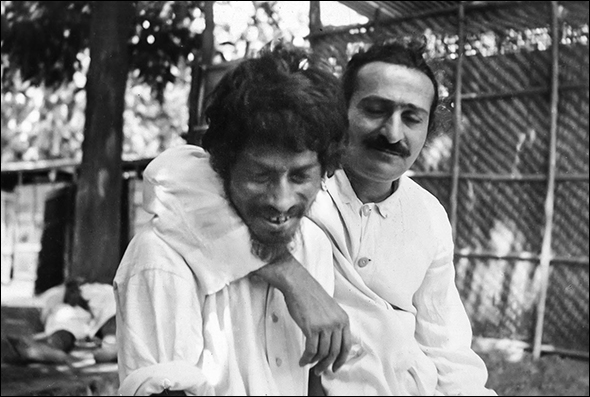 Baba with the mast Mohammed in Rahuri, 1937. (Photo courtesy of MN Publications)
The masts are undoubtedly very special people. What about the mandali themselves?
This graveyard holds so many varied life stories: A chiropractor from New York, an orthopedic surgeon from England, a businessman from Bombay, a villager who used to be labelled "untouchable," and a former mayor of Ahmednagar. Hindus, Zoroastrians, Christians, Muslims—all the diversity of the mandali lies hidden below these grey cement tiles (which were, by the way, the cheapest at the time—the mandali would not conceive of spending money on their own graves!).
Only one grave stands out with its special marker—that of Gustadji. He was the second person to be buried in this cemetery, in 1957. He had a special place as Baba's oldest, closest and much-loved disciple. After all, he had been trained under three of Meher Baba's Perfect Masters—Sai Baba, Upasni Maharaj, and even Babajan. He also kept silence, on Baba's order, for thirty years. Baba had tears in His eyes when He was informed of his death, and later came and offered flowers at his grave, and at Ali Shah's, also.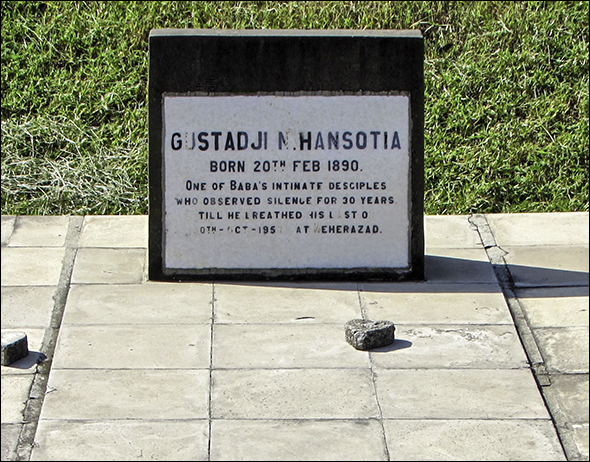 The marker on Gustadji's grave.
Baba was present for the interment of the ashes of Curshed Talati and of Nilu on 1st March 1958. A year later, on 6th April 1959, Baba himself lowered the box containing the ashes of Gadekar into the grave. Baba also attended Pleader's funeral on 27 February 1960, and scattered flowers on the coffin.
Once a friend of mine, coming again on pilgrimage, told Eruch she had missed him. He replied emphatically, "Do not miss me! Miss the Lord!" The mandali, described by Francis Brabazon as "signposts to the Reality of Him,"* did not want fame or recognition. The plainness of their cemetery attests to that.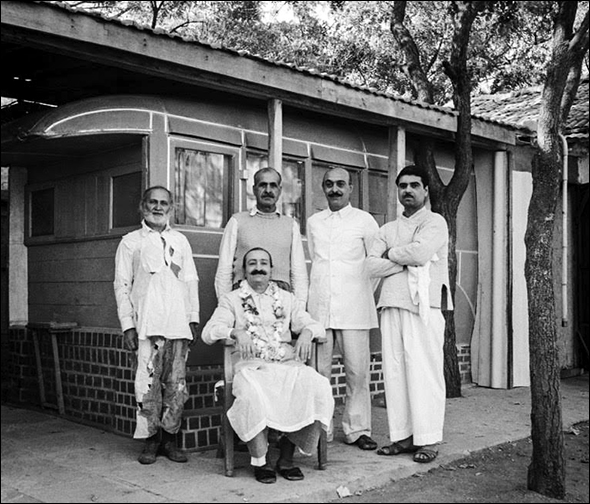 Baba with Gustadji, Baidul, Pendu and Eruch in front of the Blue Bus at Meherazad in
February 1952. Each of these great disciples of the Avatar is buried in the men's cemetery.
(Photo courtesy of the MSI Collection)
—Anne Moreigne for Avatar Meher Baba Trust, 10 November 2016
*Stay with God, by Francis Brabazon, p. 50.