Tea with Mehera
Once Meher Baba dropped His Body, it was time for Mehera to come to the forefront and shine forth her example of her love for Him and her surrender to His Will.
One of the most loved ways she connected with His new (and older) babies was by inviting them to afternoon tea with her. At the table where Baba presided over lunch (my previous story was about "Lunch with Baba"), she now presided over tea! Naturally it was a "women only" tea.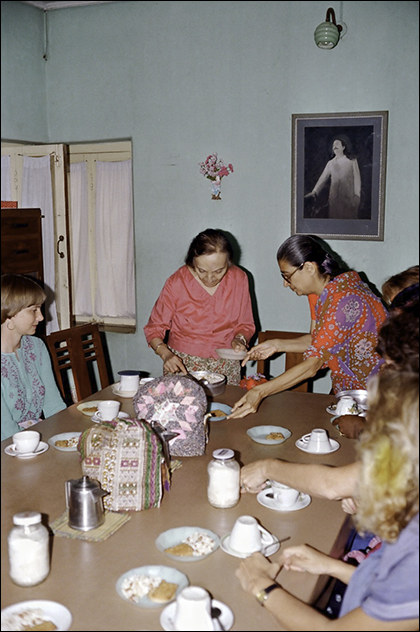 Tea time with Mehera, with Dolly Dastoor assisting, 1988.
(Photo by Karina Page)
In the 1970's there was usually room for all the women at the tea table with Mehera. It was in the 80's that Mehera began having to limit the number coming to tea, simply because there wasn't room for everyone.
Tea with Mehera began after Mehera's nap and ended with the bell to depart. Mehera would walk out onto her porch and greet everyone, saying, "Girls, come for tea," and she'd lead us inside. When you entered the dining room you were greeted by a table set for up to 10 people. If there was a larger crowd, extra stools and chairs were brought in. Children would be accommodated on a smaller table set behind the main one. As in Baba's time, you could get an elbow in the ribs because sometimes you were packed like sardines.
But it was a joy to see Mehera's smile of welcome and hear her invite her Beloved Baba to the table for tea. You sat down and waited and soon dear Mehera would say, "Girls, put your cups straight." Then tea was poured and there would be nibbles. Sev-murmura was a standard. This is a mixture of spiced chickpea flour vermicelli (sev), puffed rice (murmura) and peanuts. If there was cake or biscuits, you'd get some of those too. I heard a resident tell of how she was asked to help serve this particular snack. Suddenly, out of nowhere, a huge sneeze built up in her and "AH CHOOOOO" there was sev-murmura flying everywhere! How she wished she could have been invisible just then!
Sometimes there would be special occasions—a birthday or an anniversary—and the person celebrating would bring a treat. Vesta Clinton describes one such occasion, her 25th birthday. Earlier in the day Mehera had gotten a sari and dressed Vesta in it. And then finally, it was tea time: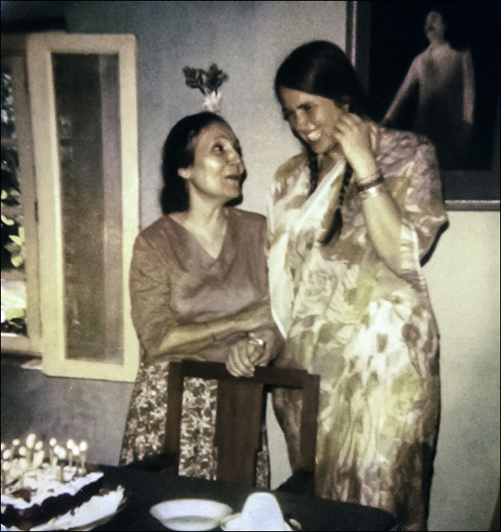 Mehera with Vesta Clinton on her 25th birthday.
"After Mehera's nap we had a happy tea time! Look at the sweet and tender expression on Mehera's beautiful face! And she loved this photograph because it looks like Baba has His Hand on my shoulder. It was my best birthday ever as joy flowed freely and happiness filled the air. Baba's Presence and Pleasure was palpable. His Beloved Mehera was having fun and enjoying to the fullest! It truly was 'High Tea!' at the dining table of the Highest of the High!"
This description will match almost everyone's experience of having tea with Mehera.
Conversation at the table was always about Baba. Mehera would tell stories, ask others to share some experience of their own. The other women mandali would also share a tale or two. Time flew by, and before you knew it, tea was over. But there was always the hope that soon, very soon, Mehera would have me to tea once more!
—Mehera Arjani for Avatar Meher Baba Trust, 19 March 2015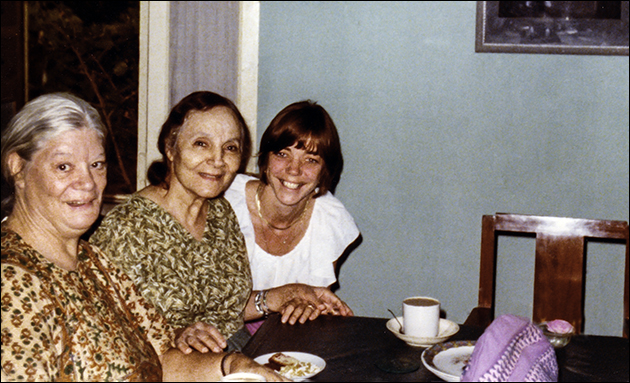 Mehera with Filis Fredericks and Ursula Reinhart at tea time, 1979 (Photo from Ursula Reinhart)