Tipoo, the Arti Singing Dog, Part 3
When we returned to Meherazad, Tipoo did his best to affect as normal a dog-life as he could on three legs. He ran and leapt over ditches, dominated the other dogs, extracted loving attention from all his fans at Meherazad and resumed his post on the front step of Baba's house to sing the arti every night. All seemed well—besides the constant struggle to keep the bandages on his stump, as he liked to pull them off and roll in the mud every chance he got. However, after a couple of weeks Tipoo appeared very short of breath, so we finally convinced a local radiologist to x-ray him and off we went. As the chest films were being developed, Tipoo remained on the table waiting alongside me for the results. When the doctor brought in the x-rays, two large lung tumors were readily visible and my distress was audible. When I said, "Oh no!" Tipoo responded immediately by turning his head to look at me with a wide-eyed expression of concern, causing the radiologist to exclaim, "It's as if he understands—he's like a human!"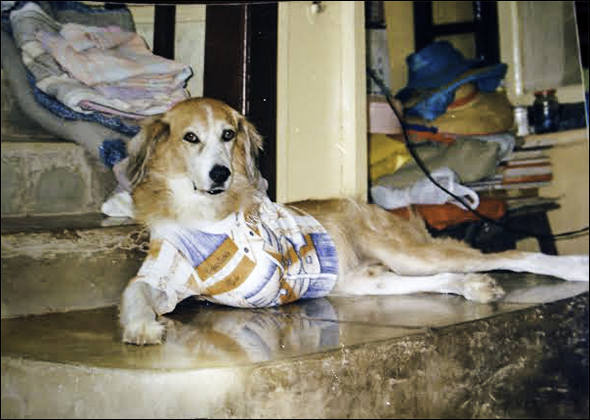 Tipoo on the big step of the Bungalow veranda, where he would sing the Bujaawe arti.
Before Meheru left for her summer break in Pune, her thoughts were consumed with Tipoo's fate, so much so that, one day as she was climbing a ladder to clear off dead leaves and twigs from a gutter before a storm, she clearly heard Mehera's voice telling her that Tipoo should not suffer unnecessarily. (This was some years after Mehera had passed away.) So Goher and I kept a watchful eye as our darling Tipoo began to decline in Meheru's absence.
One evening shortly after Meheru left, Tipoo collapsed when trying to climb on the front step of the house. It was clear that the time had come, so we made Tipoo comfortable inside the house on a mat next to the sitting room carpet. All night long Tipoo would lift and turn his head around to gaze at the photos of Baba and Mehera side by side in the sitting room, and bob his head up and down as if he were trying to focus on something only he could see. When morning came, one of the workers lifted Tipoo and carried him into Baba's Room for darshan at His foot cushion and then placed Tipoo on the very step where he had sung so many artis.
Tipoo received a large pain injection to sedate him and he slept deeply as the entire household gathered around him for a final farewell. Even Bal Natu, who ordinarily avoided anything to do with ill health and needles, came to pay his respects to this special being. On the front veranda of Baba's house we joined together to sing the Bujaawe arti and as we did I noticed Tipoo's chest begin to rise and fall erratically. I was alarmed, thinking that he was having some kind of a seizure, but as I watched I began to hear a muffled sound coming from him. We couldn't believe our ears. Impossibly, in his deep sedation, Tipoo was singing the arti with us, one last time.
Many years have passed since Tipoo was our companion at Meherazad, but the memory of his remarkable life is still very fresh in our minds and hearts. He was, after all, the only dog who sang Baba's Bujaawe.
[To hear Tipoo singing the Bujaawe arti with the Meherazad women in 1998, click on this link.]
—Shelley Marrich for Avatar Meher Baba Trust, 17 September 2015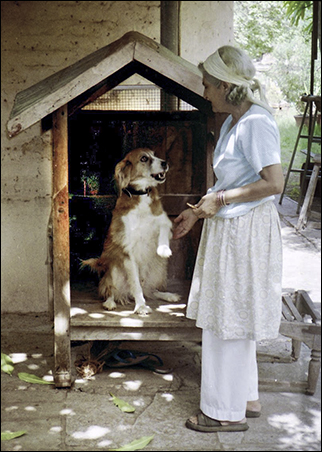 Tipoo, sitting in the watchman's cabin, raises his paw for Meheru.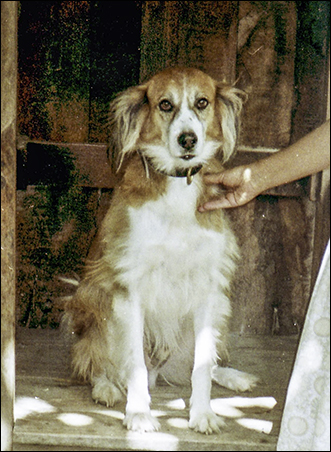 Tipoo