Mehera's Perfect Care
I remember Mani saying once that watching Mehera handle a photograph of Baba was like seeing a prayer unfolding. Dearest Mehera was the essence of love for Beloved Baba, so it is only natural that her every gesture would be a perfect expression of love for Him. Mehera's flawless examples of care for Baba's precious belongings and all things touched by and connected to Him became the very foundation for those later entrusted with the preservation and protection of the priceless articles He left behind to capture our hearts.
Mehera would always protect Baba's pictures, His clothing or anything pertaining to Him, from any dust or dirt. She took care to make sure her hands were clean before handling anything of Baba's—be it a photo, a book or a personal item. During Baba's time, before Baba called Mehera into His room in the early mornings to greet Him, she would carefully wash and dry her hands and make sure they remained clean until she received His call. And even after Baba dropped His body, Mehera would wash her hands each and every time before entering Baba's Room.
Mehera also was particular about light on Baba's photos—both sunlight and artificial light—as, she said, it could be very damaging. The Lucite plaque of Baba's hair in His Room was of special concern to her. Mehera had a cloth cover stitched for this plaque and at night, after arti, when she had finished saying her goodnights to her Beloved, she would place the cover over the plaque protecting the hair from the bright morning sunlight as it shone through the eastern window. In the mornings, Mehera would remove the cover only after she had finished cleaning Baba's Room and made sure all the windows were curtained. And she would make judicious use of the light on the wall above the plaque, making sure it was only turned on when necessary.
Another aspect of Mehera's meticulous care of Baba's personal items was how she would protect them from the all too ubiquitous Indian dust. She made good use of the natural, unbleached Indian muslin cloth, wrapping each item carefully and thoroughly, layer upon layer, so that no dust could penetrate and harm the precious item within.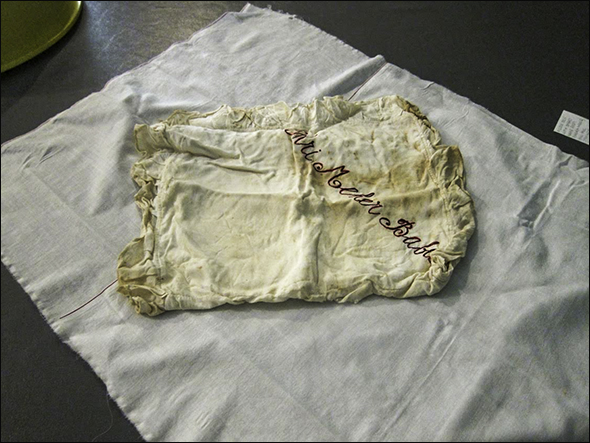 Pillow case used by Baba at Bindra House (the Jessawala home in Pune).
You can see in this photo the first layer of muslin cloth.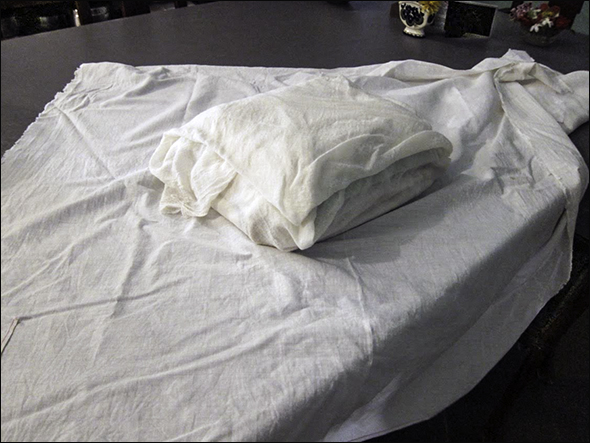 The second layer of muslin cloth to protect the item within.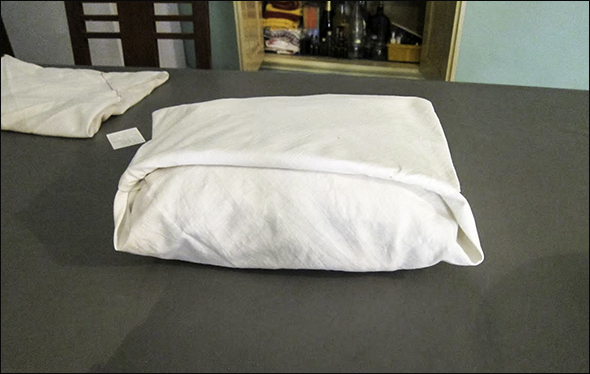 After the second cloth has been wrapped the item is ready for storage in a cool, dry cupboard.
(Series of photos above by Shelley Marrich)
Years ago a senior conservator from the Metropolitan Museum of Art visited Meherabad and Meherazad, having been invited by those involved in Baba's archives. When she was shown how beautifully Mehera had cared for Baba's belongings she was amazed. She said that with all the science they presently employed regarding environmental factors like temperature, humidity, light and dust—they could not have done a better job than Mehera did had they been present at the time. Although not a follower of Meher Baba, the curator was so touched by what she witnessed that she said it was Mehera's love for Baba that had naturally engendered her intuitive understanding of how to manage Baba's things. She told us that her care, treatment and handling of these items was faultless.
So not only did Meher Baba leave behind His precious belongings to capture our hearts but also, for a time, His beloved Mehera whose every gesture, every thought, every breath was in remembrance of Him.
—Shelley Marrich for Avatar Meher Baba Trust, 4 June 2015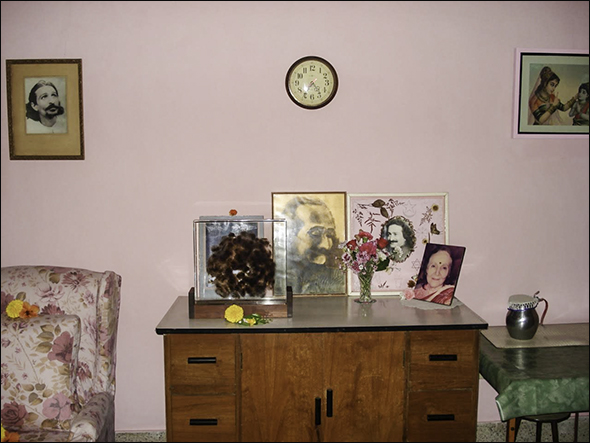 Lucite plaque of Baba's hair on the dresser in His Room. Though you can't see the light overhead, you
can see the reflection of light on the plaque and other photos on the dresser. (Photo by Kacy Cook)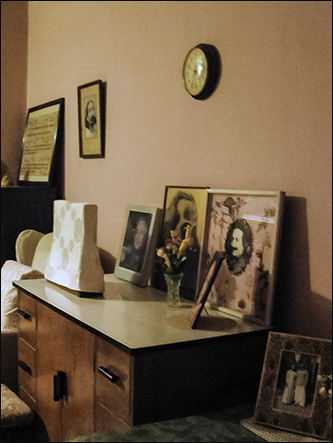 Baba's Room in the early morning. On the left you can see the cover
Mehera had stitched to protect Baba's hair from the morning sunlight.
(Photo by Shelley Marrich)