"Go See My Tomb"
It was 1964, and my mother Roshan, sister Dolly and I were staying in Akbar Press, the Satha family home in Ahmednagar, for the Diwali vacations. During that particular vacation I remember going to Meherazad frequently for lunch. We'd leave Akbar Press around 9.00 AM in a tonga (horse-drawn carriage) and stay until after 5.00 PM. The tonga would stay with us, the carriage driver having a relaxing day, sleeping while his horse grazed free until he was needed again to take us home.
One day, as we were greeting Baba, He gestured to my mum, "Tomorrow you all don't come straight here. Go to Meherabad and see my Tomb, then come to Meherazad for lunch. I want the children to see My Tomb." Dolly was still pretty young—she was 2. I was 5 and knew that people died. So I was very concerned. Did it mean that Baba was going to die? I dared not say anything right then, but on the way home I questioned my mum, and she told me that Baba was going to be with us for many, many years. But when He dropped His Body, He had already decided that His Body should be placed in a shrine that He had had built according to His wishes. This was what we were going to see. Somewhat mollified, I kept quiet, but I still didn't understand.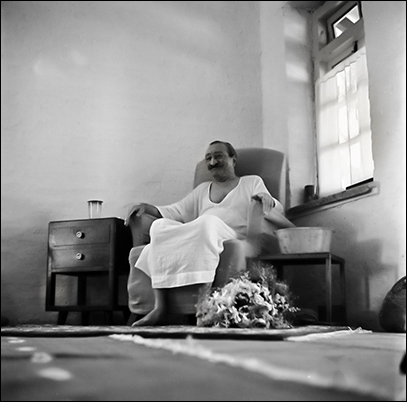 Baba in Mandali Hall at Meherazad, 1962.
(Photo courtesy of MN Publications)
The following morning, we all got into the tonga much earlier than usual, probably around 7.30 AM. The tonga went down an unfamiliar route. It was a dusty track, with fields on either side. Mum pointed out a farm which she said was owned by us, and farther on, another farm owned by the Damania family. Finally, we came to a place that looked like a compound, with small houses inside the area. We stopped and were greeted by a tall, stern man who told us that we were expected, and to take the tonga and go up the hill right away. This was, of course, Padri, though I didn't know it then. He didn't smile at us or come forward to hug us, as most older people did, but stood there with a cigarette dangling from the side of his mouth and talked to our mum. Intimidating!
Off we went via a railway crossing, up to what looked to me like a castle. It was stark against the sky, and had a wall around it. The tonga stopped outside the wall and we all got out. Waiting for us was a tiny woman dressed in a white sari. Like the tall stern man, she didn't smile or hug us but said, "Baba sent a message. You are here to see His Tomb." Signing to follow her, she set off towards a small structure with a white dome. The door was closed but not locked. Mansari (for that is who she was) opened it and took us inside.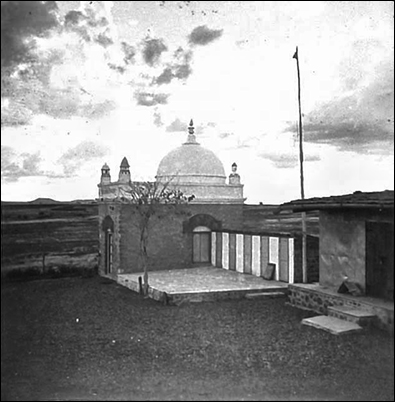 Baba's Tomb, with meditation cells and the Tin Cabin, as Mehera
remembers it on her first visit. (Original negative and reproduction
courtesy of the MSI Collection. Photo print from the
Jessawala Collection.)
It was beautiful! Painted walls and ceiling, steps leading down to a crypt that also had paintings on every side. Mansari told us to go down the steps and look at the place where Beloved Baba's body was going to be placed. We did, and then came out to where she was standing on a platform, in front of some small cabins. Next we were taken into a tin room, and Mansari explained that this was Baba's cabin. We were led around to another building and introduced to a sweet old man and several women. The man was Kaikobad Dastur; the women were his daughters. I don't recall whether his wife was there too. Kaikobad had the most radiant expression I'd ever seen on anyone's face.
Finally, we were taken by Mansari to see the rooms of the Meher Retreat compound. She showed us where the Jessawalas had stayed in the early days when they first came to be with Baba, then took us to the room previoiusly occupied by Mehera, Mani and a few of the other Eastern women, and finally to where she stayed, which had been the kitchen for the women's ashram in the old days. Finally, we were taken to the gaadi, but to get there we had to pass 3 dogs, Manaa, Maya and Mickey, who were large and looked ferocious. In fact, Manaa growled at us, but Maya and Mickey allowed us to pet them. After we'd bowed down to the gaadi, we said goodbye and left. Arriving at Meherazad an hour and half later, we went to see Baba and He gestured, "Did you all go?" Mum said we had, and Baba made the sign that He was pleased. That was how we first went to see His Tomb!
—Mehera Arjani for Avatar Meher Baba Trust, 15 October 2015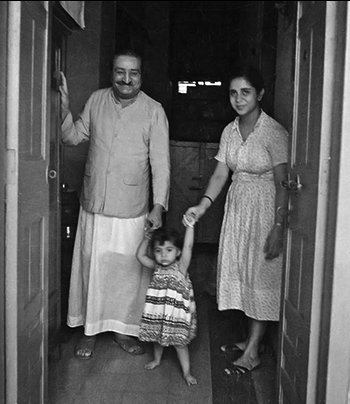 Baba with Mehera and her mother, Roshan, at Bindra House, Pune, ~1962.
(Photo courtesy of MN Publications)