Mansari in Baba's Kitchen
Many pilgrims remember being welcomed at Upper Meherabad by Mansari, one of Meher Baba's women mandali. For many years she lived in the rooms inside the Upper Meherabad compound that had been used as Baba's and Mehera's kitchens when the women mandali lived there during the '30s and '40s.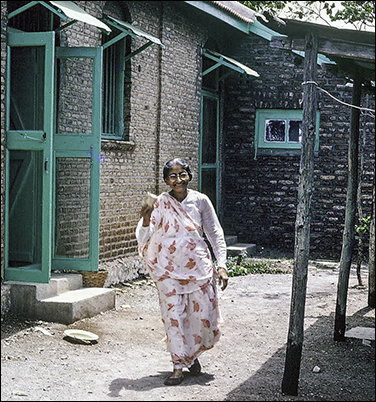 Mansari coming out of Baba's kitchen, 1972.
(Photo courtesy of Anne Giles)
Mansari first came to live in Baba's ashram in June 1938, after many years of longing to be called by Him. When Baba and five of His women mandali (Mehera, Mani, Meheru, Margaret and Walu) switched residences to Pimpalgaon (later called Meherazad), Baba ordered Mansari to stay in Upper Meherabad. She protested, wanting to be with Baba. But Baba told her, "If you want to stay with me, you will have to stay according to my pleasure. If you cannot do that, then you will not be with me, although you may be with me physically. If you keep my pleasure by remaining at a distance, then you will truly be with me forever!" [Lord Meher, online edition, p. 2391]
Later, in 1949, when Meher Baba was arranging for His New Life, He originally said that no one was to remain at Upper Meherabad. Mansari, however, had the thought that she would like to stay there, and Baba asked her what she was thinking. "I want to stay in Meherabad, even if I have to stay alone," she replied. Pleased with Mansari's wish, Baba embraced her. [Lord Meher, online edition, p. 2753] He allowed Mansari and four other women—Kaikobad's wife Jerbai and their three daughters Meheru, Jalu, and Gulu—to stay on the Hill.
Mansari and Kaikobad's family stayed in the old maternity hospital. Some time after 1956 Mansari asked Baba's permission to start staying in the rooms used previously as Baba's and Mehera's kitchens. Mehera's kitchen became her bedroom, but she almost never slept there, especially in the later years, because she found her bed uncomfortable. Instead, she slept in Baba's kitchen in a cloth chair similar to the one pictured below.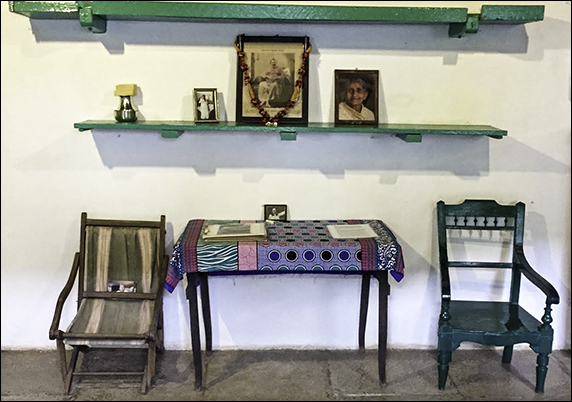 Furniture in Baba's kitchen during Mansari's time, including the cloth chair on the left.
Pilgrims started coming to Meherabad after Baba dropped His body in 1969. Until 1980, there was lodging for only a few pilgrims at Lower Meherabad and then only for 4 days a week. Most of the pilgrims stayed in Ahmednagar, several kilometers away, and would travel to Meherabad for the day. By afternoon, they would be flagging in the afternoon heat, but there was no place for refreshments for miles around. So Mansari started serving chai—spiced tea with milk and sugar—in Baba's kitchen. She also made little treats.
One sweet dish was made from China grass, like a vegetarian gelatin, which she flavored with cinnamon, herbs, or other flavors. She would put it in tiny containers, looking very much like a small portion of Jell-O, and place it in the windowsill to set. She called this windowsill her refrigerator because a good breeze usually came through the window, and this dessert was the only thing she put on the sill. As she made chai and served treats, Mansari would chat and tell stories of Baba.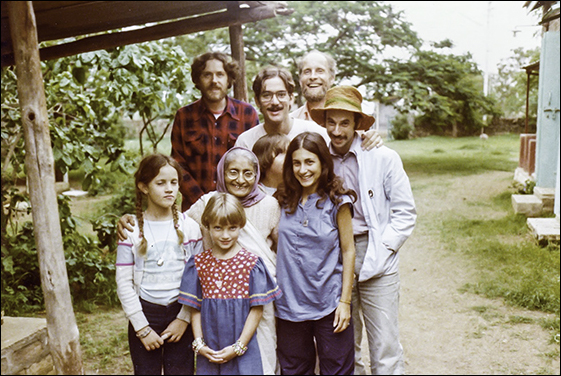 Westerners clustered around Mansari (center) in 1979 outside her rooms.
Another treat the Westerners affectionately called "plastic," a term Mansari found humorous. After cooking tapioca and other ingredients for a long time, Mansari dropped the mixture in globs on a sheet of tin and set it out in the sun to dry. She then deep-fried the dried globs until they puffed up, looking like bubbly white plastic.
Mansari also found humor in the Westerners' surprised reactions to the birds that regularly flew in and out of the kitchen. Originally, Baba's kitchen did not have a screen door. Small birds would fly in and make themselves at home, sometimes sitting on the edge of the pot of chai or a plate of treats. Eventually, a screen door was made, but Mansari seldom kept it closed. Another addition to the kitchen during Mansari's time there was the wood stove at the end of the room. Mansari wanted a wood fire to make bhakri (millet bread) so a stove was added at the far end of the kitchen. Unfortunately, it never worked well, filling the room with smoke. Consequently, the small room outside Mehera's kitchen was built as a wood-fired kitchen.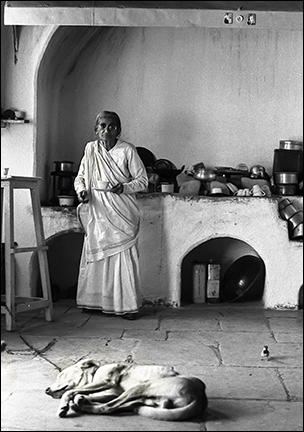 Mansari in Baba's kitchen with one of her dogs and a bird on the floor, 1972.
(Photo courtesy of Anne Giles)
One day several years after Baba dropped His body, the chair pictured below was delivered to the kitchen. Mansari said, "Baba sat in that chair. And it was given to me so that people could sit in it. And enjoy!" [Personal communication] Mansari sat in the chair and encouraged other people to sit in it also. This chair is still available to sit in when you come to Meherabad!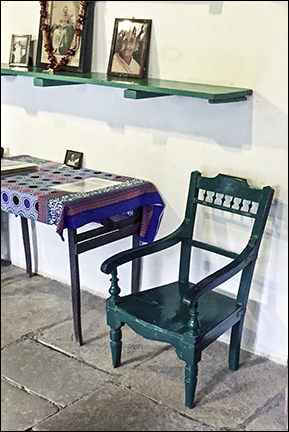 The green chair that Baba sat in and which we may sit in also!
—Clea McNeely for Avatar Meher Baba Trust, 26 May 2016