Jangale Master
The compound known in Meher Baba's time as the Family Quarters was a property a little distance from Meherabad, at the edge of Arangaon village. It was used by Baba to house some of His disciples and their families, from 1925 onwards. The same location is now the site of the AMBT's Meher Health Centre. Strolling in the compound today and chatting with Ramesh Jangale*, who grew up there, we are transported to a time altogether different from our own: A time when life was sometimes stripped to the barest of necessities, when the discipline of living for the Master was paramount, and when proximity to His lovely form gave the highest order of fringe benefits!
Ramesh Jangale pointing out where his family kept their cowshed.
Behind him, the right-hand wing of Meher Health Centre sits on the
spot where the Jangale's house had been. (Photo by Irene Holt)
Ramesh's father, Laxman G. Jangale, came to Meherabad in 1938, at the age of 23. Baba and the mandali had decided to advertise for someone to help with the marketing for the ashram. Jangale applied for the job and was hired. He and his wife became devoted to Baba and raised their five children in the Family Quarters compound. They lived closely there with others in Baba's circle: Siddhu and family, Chhagan Master and family, the Savak Kotwal family, and, later, the Kalchuri family.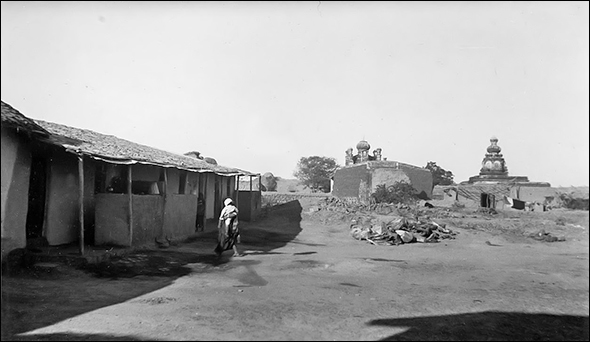 The Family Quarters in 1937. (Photo courtesy of MN Publications)
Jangale was always known as "Jangale Master," as the term "master" was used for teachers or for those in charge of marketing. He continued to do the marketing work for the ashram throughout his life with Baba. During the New Life meetings in 1948, Baba said that Jangale Master was one of His mandali. Jangale Master served Baba at Meherabad for the rest of his life, well over 60 years, and is buried in the Men's Cemetery at Lower Meherabad between Aloba and Bhau.
When Jangale was first hired, his salary was 20 rupees per month; when his wife Mukta joined him, Baba raised it to 30! In the beginning their possessions were few. They had one or two kitchen utensils, an empty ghee tin for boiling water, and they slept on gunny sacks on the floor. Jangale Master learned from Vishnu, Siddhu and Chhagan Master the job he was to do and the ways of Baba and the various mandali members. He traveled to Ahmednagar bazaar by tonga (horse cart) each day. Every morning he would report to Baba about the previous day's bazaar work and what he was to undertake on that day. Gently he was being molded into the service of the Master.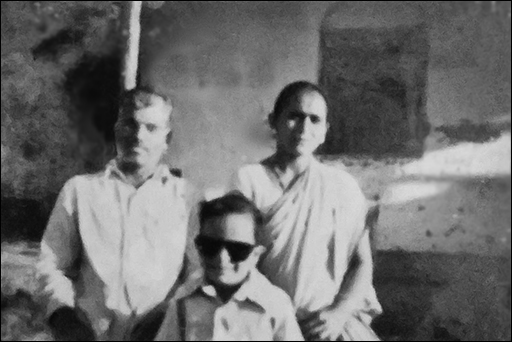 Family photo of Jangale, his wife Mukta and Ramesh
in front of the Family Quarters in the 1950s.
Jangale Master asked Baba's permission to go into the "milk business," which Baba granted, and the family kept a couple of cows and a couple of buffalo. Mukta began to learn sewing from Nergiz Kotwal. There was no tailor in Arangaon at that time and Mukta eventually conducted a small tailoring trade. Jangale realised there was a skill to cutting the cloth to fabricate clothes, so during his marketing excursions he would visit his friend who was a tailor and he learned from him how to cut. At night Jangle Master would cut, and by day Mukta would stitch, making ends meet, quite literally.
The story of their sewing machine is a touching one. When Jangale's youngest sister was to be married, his father contacted him and asked him to borrow 300 rupees "from your boss." Jangale Master went to Baba. "Baba, my sister is to get married and my father is requesting Rs. 300."
Baba hesitated, "I don't know if you will return it to me." Jangale Master assured him he would, and produced a note written by his father, stating that he would return the amount within one year. Vishnu read out the note in Marathi to Baba. Baba asked Pendu, "Shall we give it?"
And Pendu answered, "Yes, Baba, he is promising. He will give it back." So Baba said ok, and He gave Jangale Master the loan.
After a year, Jangale Master received the money from his father and took it to Baba, saying he was repaying the money loaned for his sister's marriage. Baba said, "I don't remember that." And He asked Pendu, "Did I give him money?"
"Yes, Baba."
Baba mused, "What shall we do?" Pendu didn't say anything. "OK," Baba said. "Keep this money as my prasad. Don't give it back to me."
At home, Jangale Master discussed the money with Mukta. "This is Baba's prasad; we must use it well." They decided to buy a sewing machine. They got a second-hand one for exactly Rs. 300. The little tailoring business was a great help to their family, along with the milk sales. Later when Jangale Master and Mukta's eldest daughter was to get married, Baba asked Jangale, "Do you have money? Can I help you?" And Jangale Master answered, "Baba, I have saved money. Because of the sewing machine we purchased and the cows we keep, we have saved enough money. Thanks to You, I have enough to take care of all the children."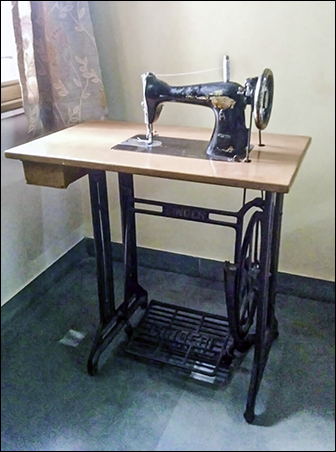 Mukta Jangale's sewing machine (bearing a new table top), kept all
these years by the family. As Ramesh says, "It is Baba's prasad."
(Photo by Ramesh Jangale)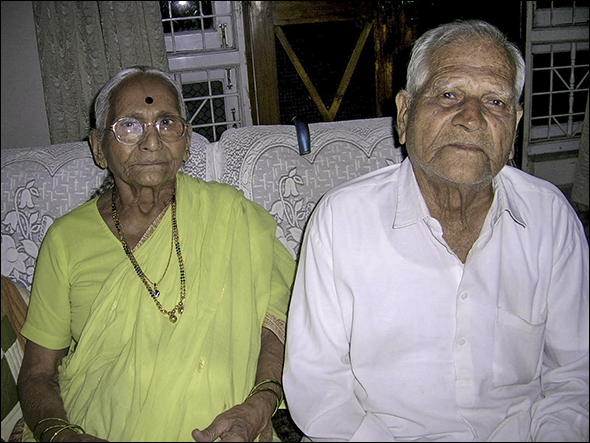 Mukta and Jangale Master in 2005.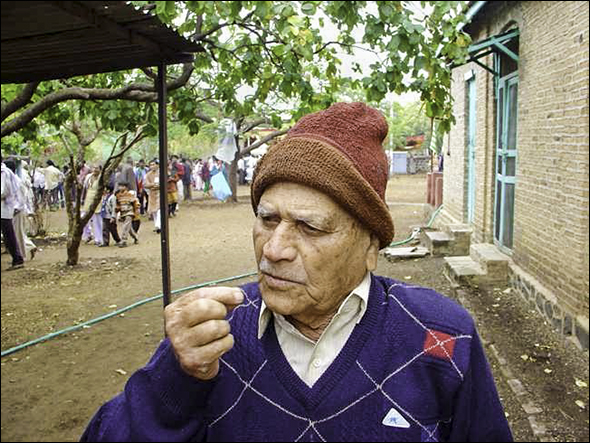 Jangale Master on Meherabad Hill in his later years.
(Photo courtesy of Niket Kale)
—Irene Holt for Avatar Meher Baba Trust, 3 August 2017
*The story and quotes in this story are extracted from the author's conversations with Ramesh Jangale.