He Opens the Doors
As a boy, Meher Baba (then known as Merwan) spent considerable time in the house of His Aunt Piroja (Shireenmai's sister), who loved him immensely. Piroja (affectionately known as Pila Masi) and her husband Rustom (known as Masaji) had two children, Aspandiar (later nicknamed Pendu by Baba) and Naja. The two children loved Baba so much that once Aspandiar thought longingly, "How wonderful it would be if Merwan were Zoroaster. We never have seen our prophet, and Merwan is so loving, like him. He sings such beautiful prayers and his nature is so good, I wish he were Zoroaster." [1]
In 1917, when Naja was nine years old and Aspandiar was fourteen, their mother died from a lung condition. Merwan consoled his uncle, "Masaji don't worry. The responsibility of looking after Aspandiar and Naja is now with me. I will take care of them. I accept full responsibility for them. Don't worry about your children. They are mine now." [2]
It was decided for the children to live with their aunt Dowla Masi (Pila Masi and Shireenmai's sister) and her husband Faredoon, who owned a restaurant in Poona. It was, in part, due to this restaurant that Naja learned to cook, preparing herself, unknowingly, for her future role in Meher Baba's ashram.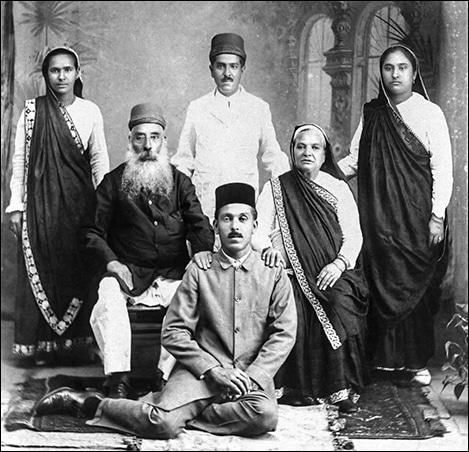 A portrait from the early 1920s. Standing are Naja, Baba's older brother Jamshed
and his wife Big Khorshed. Faredoon and Dowla Masi are seated and Bailey, a
family friend, is sitting on the floor. (Photo courtesy of MN Publications)
Naja, along with five other women, came to stay permanently at Meherabad in October 1924. The women lived in the Post Office building, which was surrounded by bamboo mats to create a private compound. None of the women were allowed to leave the compound and only Baba and Gustaji, of the men, were allowed to enter.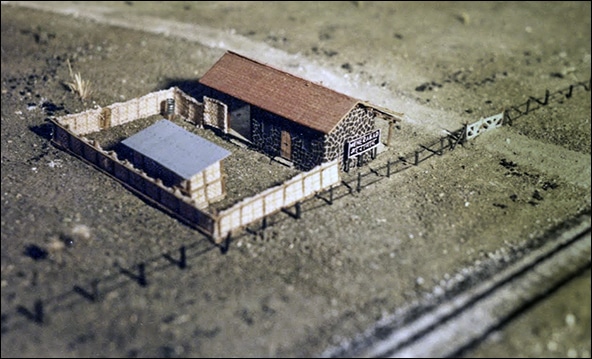 A model, constructed by Ted Judson, of the Post Office building as it appeared
in the 1920s at Lower Meherabad. The train tracks are in the foreground.
(Image courtesy of MN Publications)
At first Dowla Masi oversaw the cooking, but in 1925 Baba's older brother Jamshed, whom she had raised, fell seriously ill so she left Meherabad to be with him. Baba informed the women, "If you are willing to cook for over 100 people every day then remain here; otherwise you should go away." [3] Naja agreed to take over the responsibility, which pleased Baba.
Often, Baba used Naja as the focus of His criticism to teach others a lesson, knowing that Naja's love for Him could withstand any reprimand. Once during the celebration of Upasni Maharaj's birthday at Meherabad in 1925, Baba overheard some women guests talking and laughing loudly in their improvised quarters near the Post Office building. Baba entered the compound, called Naja and upbraided her before all, saying, "Aren't you ashamed of yourself? Why are you laughing hysterically like a mad woman in front of all? Don't you know where you are? This is Meherabad—a holy ashram—not some damn carnival!" [4] The women who had actually been laughing witnessed Naja's humiliation, learning a lesson they would never forget.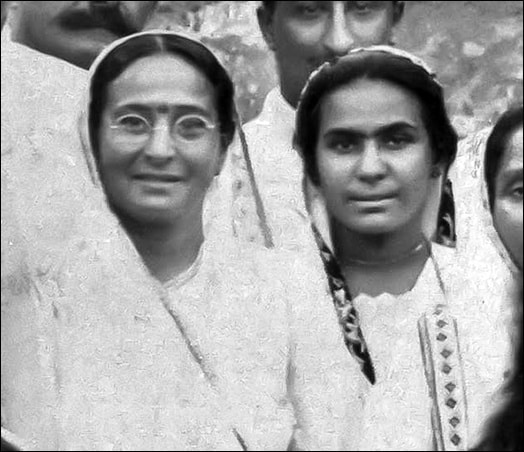 Baba's mother Shireenmai and Naja, 1923.
(Photo courtesy of MN Publications)
Sometimes, Naja had to prepare 200 meals a day. Once, when very tired, Naja thought, "Mehera is not given much work. Why does Baba make me work so hard?" [5]
Although, Naja did not complain to Baba, He called her one day and told her this story:
"Have you ever heard the story of Mary and Martha? Both loved Jesus intensely. Once, Martha was preparing food for Jesus, while Mary stayed sitting by his side, listening to him speak. Martha did not like cooking in the kitchen all day long, for she had no opportunity to be in Jesus' company. One day Martha complained to Jesus about it, asking him to order Mary to help her. But Jesus said, 'By sitting by my side, Mary is serving me as much as you are by cooking my food.'"
The sanskaras [impressions of the mind] of everyone are different; hence, everyone's duty is different. … Continue doing your duty with love and don't think about what others are doing. You have no idea how great your service is! It is truly great and in the future you will realize it." [6]
Consoled, Naja began doing her work with all her heart. Living with the Master is not easy; but, if a disciple is willing, He opens the doors which make serving Him possible.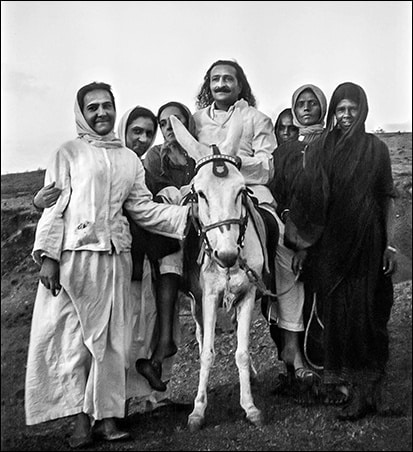 Naja is on the left in this group of women with Baba on Meherabad Hill, 1936.
(Photo courtesy of the MSI Collection)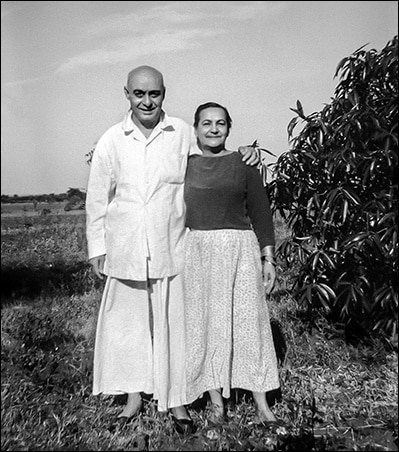 Brother and sister—Pendu (Aspandiar) and Naja at Meherazad in the 1960s.
(Photo courtesy of the MSI Collection)
—Suzie Iimura for Avatar Meher Baba Trust, July 2016
[1] Lord Meher, online edition, p. 175.
[2] Ibid, pp. 190-191.
[3] Ibid, p. 568.
[4] Ibid, p. 583.
[5] Ibid, p. 583.
[6] Ibid, p. 584.