Khorshed Comes to Baba
Khorshed Irani was one of the first women mandali to live in Meherabad. She was a remarkable woman to know when, in the early years after Meher Baba dropped His body, we new pilgrims arrived here seeking to learn more of Him. Many remember Khorshed's lively personality, warm humor and generous spirit. She had the knack of becoming one's friend, extending her helping hand and ready wisdom whenever needed.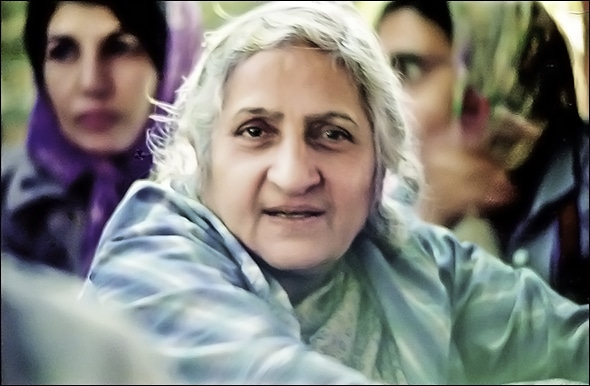 Khorshed Irani, in January 1975 at Meherabad.
(Photo courtesy of MN Publications)
Though she was in her 60s when I first met her (she lived to age 89), she would tell her stories of Baba as if she were still an eager young girl.
Khorshed first heard of Baba from her father who had met Him (as Merwan) at Upasni Maharaj's ashram, perhaps in 1917. He told Khorshed and her mother of the strikingly handsome Persian boy who was devoted to Maharaj. Khorshed became fascinated with Merwan in her heart, without having seen Him herself. She was just seven years old!
Khorshed grew up in an incredibly spiritual family atmosphere. Her father Kaikhushru knew all five of Baba's Perfect Masters and would go to see them from time to time, in the years before the family became Meher Baba's disciples. Her mother Soona was devoted to Upasni Maharaj and became Meher Baba's disciple as per Maharaj's instructions. Soona (known also as Soonamasi) was the sister of Gulmai, Baba's "spiritual mother." By the time Khorshed first saw "Merwan" at age 12, she was primed in her soul to become His.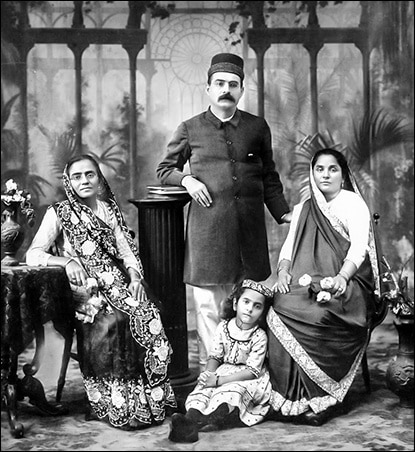 Khorshed as a child with her Aunt Moti (left) and her father and mother,
in Bombay 1918-'19.
(Photo courtesy of MN Publications)
It was May of 1922 and Merwan was arranging a four-day celebration for Upasni Maharaj's birthday at Sakori. Khorshed traveled with her mother by train for the occasion. Her focus on that trip was to see Merwan. She got the chance at last at the Ahmednagar train station, as Merwan and His group arrived there by another train. She would tell us that when she finally set eyes on Merwanji, she fell in love. Looking at Him was not like looking at any other person. His beauty and power were unique, and the feeling He evoked, Khorshed said, was indescribable.
It was at this birthday occasion that Upasni Maharaj spoke emphatically with some of his followers about Merwan's spiritual status, telling them that Merwan was the Avatar, and directing them to now follow Him. Khorshed was present, along with her mother, as Maharaj said that he had given his spiritual key to Merwan and that Merwan would make the whole world dance on His little finger!
Khorshed eventually joined Baba in the early Meherabad ashram in 1924, living in the Post Office building along with Mehera and four other women. Khorshed and Mehera were friends, close to the same age. Khorshed remained with Baba for the rest of her life, sometimes in His ashram, or traveling with Him, or sometimes in her family home in Bombay. Her love, kindled so early, never faltered, and her life was rich with stories of the Avatar and His band of lovers. As Khorshed would say, it is our inner connection with Him which draws us to Him, to see Him, to find Him—all in His perfect timing.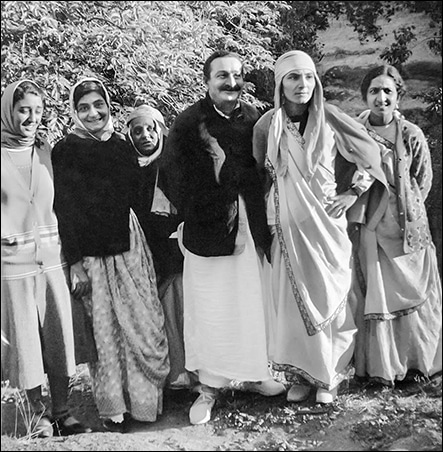 Khorshed is on the right, with Katie, Freiny, Soonamasi, Baba,
and Mehera. Happy Valley 1938.
(Photo courtesy of the MSI Collection).
—Irene Holt for Avatar Meher Baba Trust, 29 September 2016