Irene Billo
Meher Baba called a group of his Western women disciples to live in Meherabad in December 1937. A few more came the following year, among them Irene Billo, a 21-year-old Swiss girl, the youngest of them all.
Irene had come to Cannes in August 1937 to help with the cooking and household work. When she met Baba, that was it. "I felt I had come home," she wrote. She just adored Baba, with all her enthusiasm and innocence. She asked Him if she could join the group coming to India, and He said, "Yes."
So she came in July 1938, along with Nadine Tolstoy and two Swiss women, Helen Dahm (who painted the murals in the Samadhi) and Hedi Mertens. They joined the other Western and Eastern women staying in the dormitory on the first floor of Meher Retreat, up Meherabad Hill.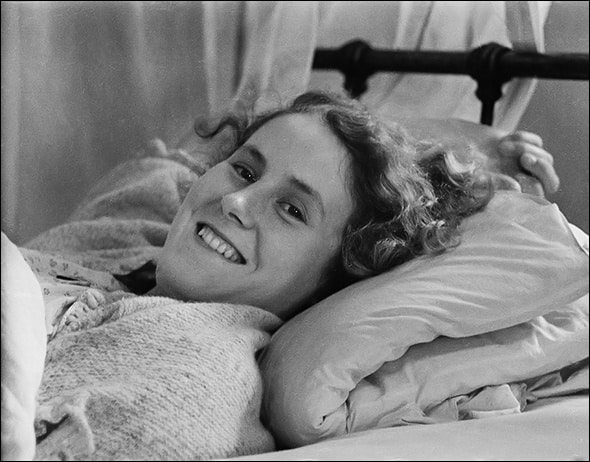 Irene Billo relaxing in her Meher Retreat dorm room.
(Photo courtesy of the MSI Collection)
After some initial difficulties, Irene adjusted to this new environment. She had been brought up to be practical in all household matters. She was very good at sewing and stitched clothes for the patients in the hospital on the Hill. She also taught the three Dastoor sisters (Kaikobad's daughters) how to make their own clothes. Irene loved animals and helped look after the various pets that Baba collected. There were horses, donkeys, dogs, geese, even pigs! Her love of animals and her sewing skills brought her close to Mehera, for whom she had a very deep love and respect.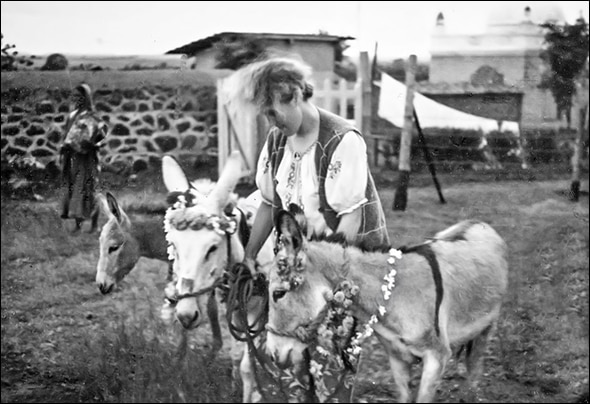 Irene Billo with the donkeys on the Pola Day celebration in Upper Meherabad, August 1938.
(Photo courtesy of MN Publications)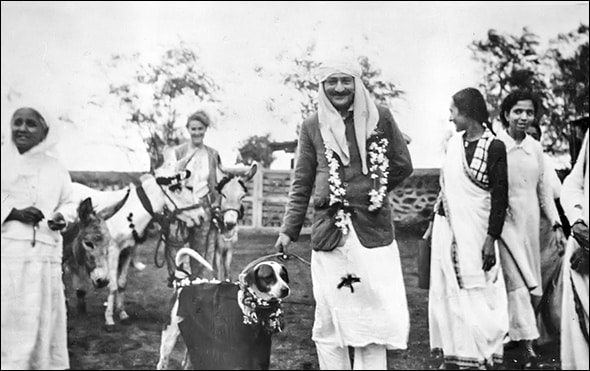 Baba with the dog, Chum, and three donkeys at Upper Meherabad, August 1938.
Standing from left are Soonamasi, Irene (holding the donkeys), Mehera, and Mani.
(Photo courtesy of MN Publications)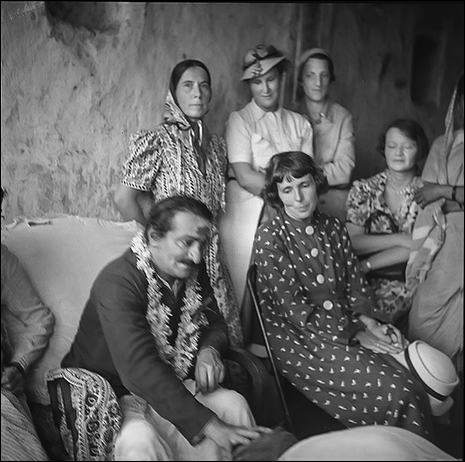 Baba giving darshan to local villagers in 1938 with, standing,
Kitty, Irene and Rano, and, seated, Hedi and Elizabeth.
(Photo courtesy of the MSI Collection)
In March 1946, just when Irene felt that she had understood what obedience means, Baba told her to go back to Switzerland. Her father had died in 1940, and the family's financial situation was no longer one of affluence. Her fiancé had married Irene's sister—eight years was a long time to wait! Irene had to earn a living, which she accepted, though she had not been brought up for this possibility.
One of Irene's assets was that she was fluent in English, and she was hired by Siemens as a telephone exchange operator. As she proudly told me, if a customer called from America, she could chat with them on the phone while trying to locate the engineer they needed to speak with. Irene was quite successful at her job, and when Siemens started manufacturing special phone exchanges that could be operated by blind people, Irene was asked to train them.
In 1983, a friend offered Irene a plane ticket to go to India. She was delighted. She had met Baba again in Switzerland twice—in 1952, and in 1956—but it had been 37 years since Irene had been to India. She was prone to sudden and severe asthma attacks, so Dr. Goher asked me to be with Irene all the time during her visit. Jack Small, the only resident at the time who owned a private car, was at Irene's disposal to drive her everywhere. Of course, Irene went to Meherazad and spent time with Mehera and the other women mandali, but most of all, Irene wanted to be up the Hill. She spent hours talking with Mansari. Both had received the order from Baba to observe silence for one year while they traveled with Him on the Blue Bus tours. Now they could catch up!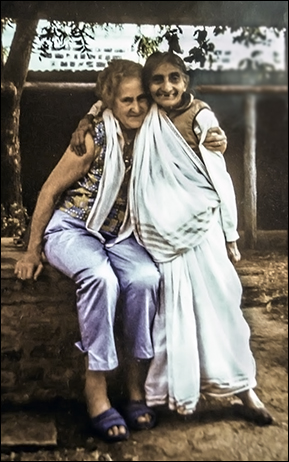 Irene with Mansari in 1983 on Meherabad Hill.
(Photo by Anne Moreigne)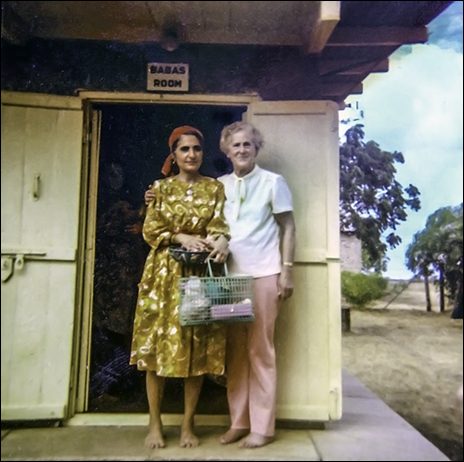 Irene with Meheru in 1983 on the Hill.
(Photo from Irene Billo's personal collection)
It was touching to watch Irene and Mansari remembering the time of the ashram—the time when they were with Baba. But what struck me deeply was what Irene kept repeating to one and all, "It is just like it was. It feels as if Baba has gone to Nasik and will be back next week." She also said, "The whole essence of Baba is here. He fills the whole atmosphere."
Irene, who had seen the murals of the Samadhi being painted, who had sat with Baba near the Samadhi, did not feel that Meherabad was any different. I have heard Mani say the exact same thing, "Meherabad is saturated with Baba's presence." Yes, this is sacred ground indeed!
—Anne Moreigne for Avatar Meher Baba Trust, 17 August 2017