Baba's Kippy
In 1936, Meher Baba called several Western women to be with Him in Nasik. With Baba's permission, Elizabeth Patterson brought along her beloved Boston terrier named Kippy. Although Kippy started out as Elizabeth's dog, she soon became a cherished pet of the whole women's ashram, especially of Baba and Mehera.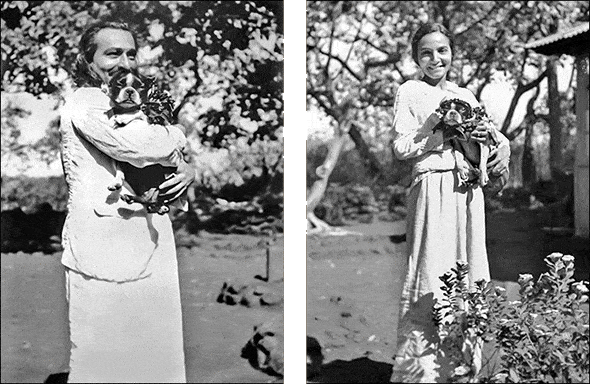 Each year Kippy's birthday was celebrated in style. In 1938 she even had a birthday portrait taken
with Baba and Mehera in Panchgani on May 5. (Photos courtesy of the MSI Collection)
With Baba, Kippy became a world traveler. After staying in the Nasik ashram with the Western women for months, Kippy then travelled with Baba and several mandali, including Elizabeth, to Cannes, France in August 1937. In Cannes, Kippy sat near Baba for over two months at the luxurious Villa Caldana and sometimes received prasad by His hand.
When Baba returned to India in November 1937, Elizabeth sailed to the US for a few months to take care of some business. Baba ordered Irene Billo to take Kippy back to Switzerland. Irene had come to Cannes to serve as Baba's housekeeper, and she stayed on in Cannes for a short while after Baba left. Irene reported that in the days after Baba's departure, Kippy spent her time curled up on the couch where Baba had sat, clearly missing Baba terribly.
The original plan was for Elizabeth to return to India via Switzerland to collect Kippy. But before Elizabeth returned to India, Baba instructed Norina to write and caution her about Chum, a fierce watchdog at Meherabad. Norina wrote: "Regarding dog visitors … He says you know how He loves Kippy. But here is Chum, a monster of affection and jealousy … we all fear him … he is peculiar and unreliable and gets sudden mischievous whims." Baba signed His name immediately next to the underlined statement "you know how He loves Kippy."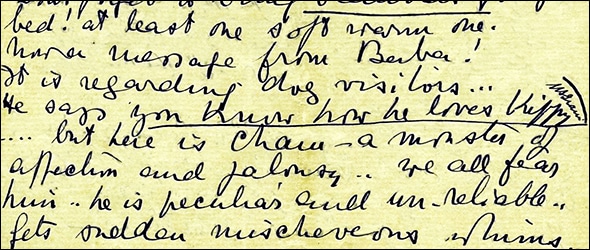 An extract from page 2 of the letter Baba instructed Norina to write to Elizabeth in December 1937.
Baba Himself signed His name next to the underlined statement that He loves Kippy.
(Document courtesy of the Norina Matchabelli Collection)
Elizabeth brought Kippy to India anyway, stopping in Switzerland to pick her up. Baba was pleased. Although no record indicates how the dogs got along, they were most likely kept apart: Kippy inside the compound that enclosed the women's ashram in Upper Meherabad and Chum on guard outside.
Kippy stayed with Elizabeth in the second floor of Meher Retreat. Mani remembers: "Elizabeth would have to come down those high steps very often with Kippy. We would hear her saying, 'Now come along Kippy, take a run. Come on …' as they came together down the stairs, which were not easy for Elizabeth to begin with, having an old back injury." [The Joyous Path, Vol. One, p. 212]
Elizabeth with Kippy (and bunny).
(Photo courtesy of the Norina Matchabelli Collection)
Kippy's travels did not stop there. After nine months in the Upper Meherabad ashram, Kippy was one of the privileged lovers of God to set off with Baba on the first Blue Bus tour. Because Elizabeth was driving, Norina was assigned to hold Kippy on her lap in the tiny bus crammed with 23 women and their supplies. Some of the women mandali humorously remembered Kippy's flatulence. Norina would hold her out the window of the bus to keep the smell at bay.
Kippy eventually returned to America permanently with Elizabeth in May 1941. Kippy died a few months after leaving Baba. Her ashes were sent to India, and she was buried at Baba's instruction with His other pets on Meherabad Hill, near His Samadhi. A few months later, Baba instructed Pendu to place a headstone over her grave. Kippy's headstone has a small bronze plaque at the base that reads, "Kippy 1935-1941." None of the other pets on the Hill have such a bronze plaque.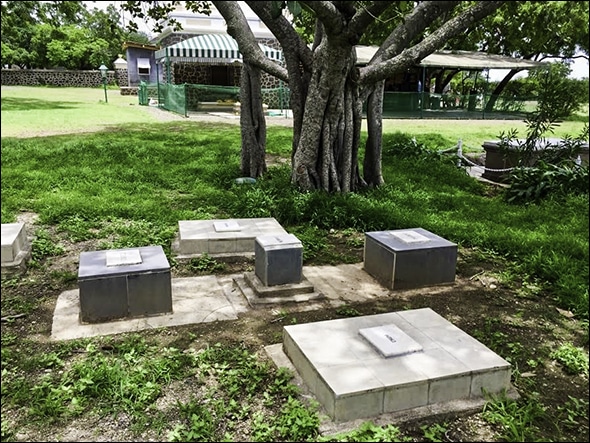 Kippy's tomb in the pet cemetery in Upper Meherabad. Her tomb, on the raised pedestal,
is in the center of the other four dogs buried there. Baba's Samadhi and Mehera's tomb
are visible in the background.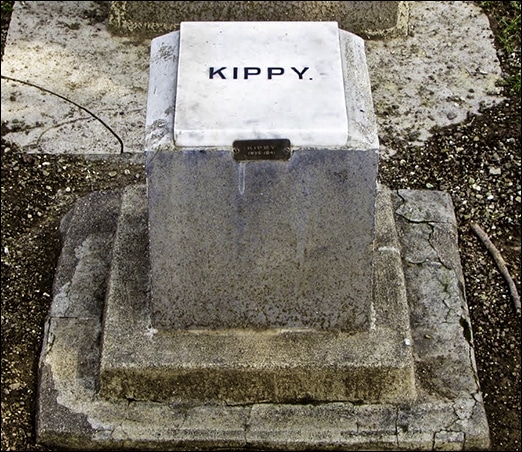 Kippy's final resting place.
—Clea McNeely and Charles Haynes for Avatar Meher Baba Trust, 27 October 2016