Upasni Maharaj's Visit to Khushru Quarters
In February of 1936, something extraordinary occurred on Meher Baba's birthday.
The day began as any other because Baba, away in Bangalore, asked all His mandali and followers to not celebrate His birthday. Adi K. Irani spent his morning running errands and visiting his mother Gulmai at Khushru Quarters (the present Meher Nazar Trust Compound). As he was driving out of the compound with Padri, a car approached the entrance and darted past Adi's car. In the backseat was a man unclothed to the waist. Amazed, Padri belted out the call, "It's Upasni Maharaj!"
Perfect Master Upasni Maharaj and his secretary Wagh halted right in front of Adi's original family living quarters (now the Trust Offices). Maharaj alighted on the same sacred ground where Meher Baba, years later in 1954, would give darshan to thousands. With one hand holding onto his draped gunny cloth (his usual apparel), Maharaj strode directly to the door of a small room and exclaimed, "My own room!" [1]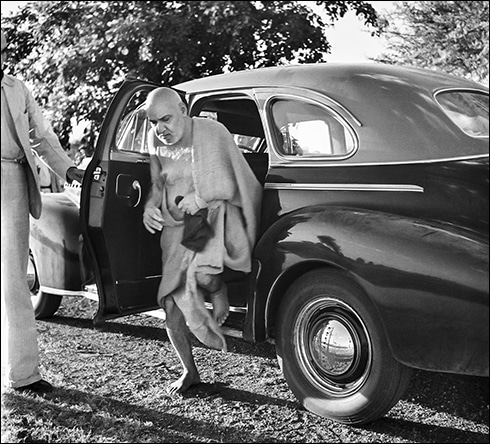 This photo shows Upasni Maharaj climbing out of an automobile in 1941.
(Photo courtesy of the MSI Collection)
As early as 1921, Gulmai—whom Baba had called His "spiritual mother"—devotedly began keeping this room always ready for Maharaj and Baba. Within was Maharaj's "seat," which was merely pieces of rough gunny cloth laid on the floor next to Baba's wooden settee. These same pieces of gunny cloth are still in Maharaj's room and may be appreciated due to Gulmai's loving preservation and recent restoration by the Trust Archives. "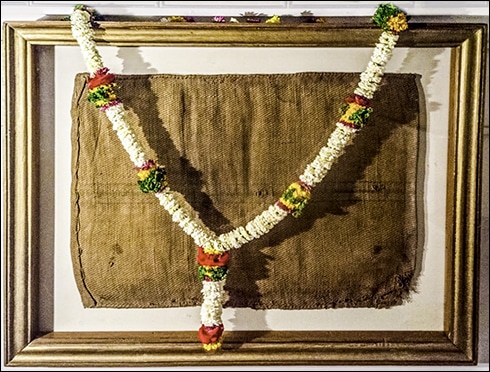 Perfect Master Upasni Maharaj's gunny cloth "seat," framed and garlanded on
the wall of His room at the Trust Compound.
(Photo by Paul Liboiron)
Customarily Maharaj would occupy his seat and then allow people to bow down to him. Adi silently entered the room for his expected darshan. But this time Maharaj was standing on his seat. He stood a good five minutes, intently uttering prayers to Meher Baba's photos while looking directly into Baba's eyes. Then turning to Adi, who remained in speechless awe, Maharaj said, "I like this place very much." [2]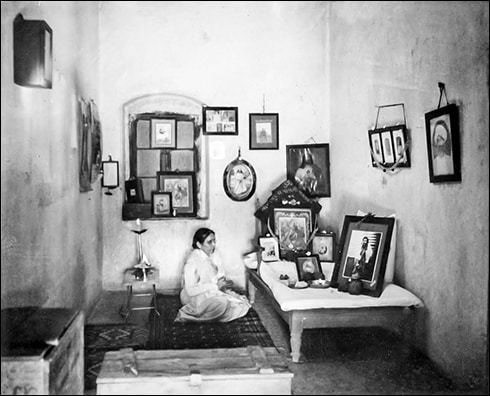 Gulmai in Baba's and Maharaj's room, probably in the mid-1940s.
(Photo courtesy of MN Publications)
Pointing to the central photo of Baba, Maharaj said, "I like this photograph of Merwan. I love Merwan. He is great! He is matchless—unique! I bow to Him. Let me pray in His presence. Convey my salutations to Him.
"Bring me the arti tray and lamp. I wish to perform Merwan's arti today. Gulmai, tell Merwan that I came here on His birthday and I prayed in front of His picture and performed His arti." [3]
Gulmai hastily brought the items. Then Maharaj began circling the tray round Baba's picture while chanting arti. Witnessing this unique event awoke profound feelings in Adi and Gulmai. They had seen Maharaj eulogize Baba many times, most vividly in Sakori in 1921, when for the first time he openly revealed Meher Baba's state of spiritual perfection, and warned some of his own devotees (who were soon to become Baba's earliest disciples) that Baba should be implicitly followed and obeyed, no matter what. But never had Adi seen Maharaj play the role of devotee of his own disciple, by worshipping Him!
Gulmai, Adi and Padri now understood why Baba had asked that His birthday not be celebrated this year. On this astonishing day, Upasni Maharaj, Meher Baba's Master, had come especially to commemorate it:
What the Sadguru does, he does for the whole universe. Through the body and mind of Upasni Maharaj the whole universe worshipped Meher Baba's birthday! [4]
—Joanna Tompkin for Avatar Meher Baba Trust, 10 March 2016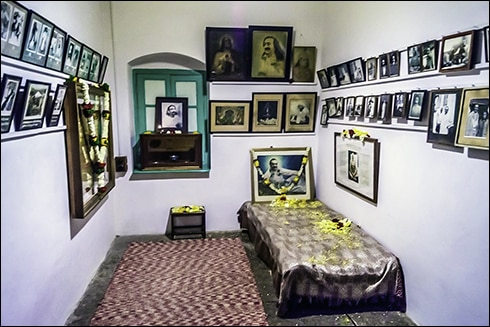 The room of Meher Baba and Upasni Maharaj as it appears today.
Note the framed and garlanded gunny cloth "seat" of Maharaj hanging on the wall on the left.
(Photo by Paul Liboiron)
[1] From an unpublished account by Adi K. Irani, which is displayed on the wall of Baba's and Maharaj's room.
[2] Lord Meher, Vol. Six and Seven, by Bhau Kalchuri, 1973 Edition, p. 1986
[3] Ibid, p. 1986
[4] Ibid p. 1987