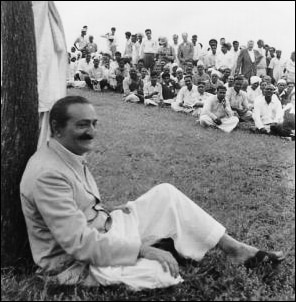 Beloved Avatar Meher Baba Ki Jai!
Dear Baba Lovers,
We invite young adult Baba lovers from around the world to the Meherabad Young Adult Sahavas – 2022. Come take part in this special opportunity to be together in His Divine Companionship at Meherabad.
What: In September, 100 young adults from all over the world gather at Meherabad to spend seven days together in the company of the Ancient One. The keynote of the "Sahavas" is the celebration of Meher Baba's love through sharing, creative expressions (such as art, music and drama), and service at Meherabad. This Year the Theme of Sahavas is:
"Awareness of Baba's Oneness Within"
Who: Young Adult Baba Lovers from age groups of 18 years to 35 years.
When: The Sahavas starts on Sunday, September 18th and continues through lunch on Saturday, September 24th.
Registration for the Sahavas is scheduled for Sunday, September 18th from 2.00 pm to 4:00 pm.
Where: Sahavas participants will be staying in Hostel C. (All other family members or friends must make separate arrangements to stay at Hostel D or the MPR).
Cost: The total cost for six nights & seven days (lodging and food) for Sahavasees (participants) is Rs. 2,200/- (Subject to change as per AMBPPCT guidelines). In addition to this, Sahavasees will also be required to pay for Bus/Train tickets for any offsite trip during the Sahavas.
♦ Each year we receive overwhelming response from New and Young Baba lovers to participate in Sahavas. It is our endeavour to extend the soulful experience to more and more spiritual aspirants. In order to do so we would give first priority to newcomers then extend to participants who have attended 1 or 2 Sahavas programs respectively.
♦ We welcome Baba lovers from outside India and request them to send an email to mbyas1894@gmail.com for any enquiry, advance intimation and information to make travel arrangements for Meherabad to attend the sahavas.
Programs include:

♦ Service Projects for Meherabad and Meherazad.
♦ Workshops, which may include drama, music, song writing, poetry, painting, drawing, dance, mosaic, pottery, rangoli, photography, etc.
♦ Discussion Groups and Presentations.
♦ Special Guests, talks by senior Baba lovers.
♦ Sports, such as volleyball, badminton, cricket, football/soccer, yoga, dance, table tennis/ping pong, seven tiles, etc.
♦ Evening Programs, welcome and closing program, films of Meher Baba, music programs, performance night, etc.
♦ Meherazad Visit, Sahavasees will have the opportunity to visit Baba's home, Meherazad.
♦ Offsite trip: Visit to a Baba place (Transportation cost to be paid by Sahavasee.)
Final schedule of Sahavas program will be shared during registration. Programs may change with constraints in time and situations.
Volunteer: Volunteers play an important and exciting role in the Sahavas from its beginning to end. Volunteer duties may include planning of activities, facilitating events, leading projects, setting up for events, and supporting participants to have a wonderful experience in Baba's Home. If you have been to a Sahavas before and would like to serve as a volunteer, please fill out the VOLUNTEER section of the application form.
Volunteer Training and Prep work: Scheduled from 10:00 a.m. on Saturday, September 17th until 6:00 pm and 10.00 am on Sunday September 24th until 12.30 pm.
Arrangement-walla: Arrangement-walla's are required to help in set-up and break-down with cleaning of Hostel C at the end of the Sahavas. Arrangement-walla's must be returning Sahavas participants (from earlier Sahavas programs) and must be present during the entire training period and stay for the entire sahavas period.
Workshop-walla: can be an individual or a team of individuals (not more than 3) who are responsible for a workshop during the sahavas period. They can be within or over the age limit and should have substantial potential to carry out the workshop. They are required to write a proposal for their workshop at least 1 ½ months before the sahavas dates with all details and complete the workshop during the Sahavas period. If they have crossed the age limit, they will arrange their own accommodation and meals. Their selection will be done by the MbYAS Organizing Team.
Counsellors: are individuals assigned to maintain the discipline and decorum during the sahavas. They can exceed the age limit and should come without children. They should have attended at least 1-2 sahavas. They will be responsible to make sure all the participants and volunteers are abiding by the discipline guidelines laid down by the AMBPPC Trust. Their selection will be done by MBYAS Organizing team with the consent of the Trustees.
Important notes:
1) Participants should attend the complete Sahavas program from Sunday afternoon, September 18th up till lunch on Saturday afternoon, September 24th 2022.
2) Each Participant is expected to be responsible for cancelling their application in case they have a change of plan and cannot participate in Sahavas. They must inform the MBYAS Team immediately at: Email: mbyas1894@gmail.com no later than August 18th 2022 with a valid reason for cancellation.
3) Applicants who do not inform the MbYAS Team regarding cancellation, their applications will not be accepted for future Sahavas programs.
4) All Participants have to strictly follow and abide by the guidelines/rules laid down by AMB Trust for Pilgrims in Meherabad and the Sahavas guidelines/rules framed by Meherabad Young Adult Sahavas Team. Any deviation to the above guidelines/rules by Participants in their behaviour/conduct will lead to serious consequences. In case of discipline issues, participants will not be allowed to participate/continue in the Sahavas program and in future their applications will not be considered for Meherabad Sahavas programs.
5) Children are not allowed to attend the Sahavas. Even if the child is staying with a relative in a different facility in Meherabad they will not be allowed to attend any of the programmes, workshops, service project, outings etc.
6) No pets will be allowed during the Sahavas.
We look forward to seeing you at the Sahavas!
In His Love and Service,
Meherabad Young Adult Sahavas Organizing Team,
Avatar Meher Baba PPC Trust.
For further information, send e-mail to: mbyas1894@gmail.com
The Meherabad Young Adult Sahavas has been created in remembrance of the Sahavas programs that Meher Baba Himself inaugurated and took part in. In the opening address "My Dear Children" on the first day (2nd November) of the great East-West Gathering in 1962, Meher Baba welcomed His Sahavas guests and explained the significance of Sahavas:
"You have come from great distances, not for some convention or conference,
but to enjoy My company and feel afresh My love in your hearts.
It is a coming together of East and West in the house of their Father."
– Avatar Meher Baba