Dear Baba Family,
As the virus pandemic rages forward in India and has made headline news around the world, we know you are wondering about the situation here at Meherabad. Thankfully, by Baba's grace we are far away from the dense city areas and for that reason, we are impacted much less severely.
The Samadhi doors and Beloved Baba's Cabin are now closed by Government order, due to the current Maharashtra lockdown. Arti and bhajans are also stopped for the time being. When the restriction is lifted, we will open again as it was before, with darshan at the Samadhi door, social distancing in the queue, and Arti in the morning and evening.
We have no indication that we will be able to open for pilgrim accommodations in the near future, however. At this juncture, we are also not sure whether we will be able to hold the Silence Day Gathering. We are advising Baba Lovers not to make any railway bookings.
Our local village Arangaon, with a population of 6000, currently has about 10-15 active cases, most of them considered mild cases. The village and surrounding areas have recorded a total of 290 Covid cases since the virus began last year. 90% have recovered, 16 died (5%) and about 5% are still active cases.
In our Baba community, we have had a few cases and three deaths. Among Trust employees, there have been 8 or 9 cases. Five remain active cases and the others have recovered.
Vaccinations began in March. Most of our Meherabad residents over age 60 have had their first vaccine injection. Also probably 75% of the 45-60 age group have, as this category is now being vaccinated.
We recently arranged for all the Trust workers to be tested for Covid. The workers who tested positive are able to quarantine at home. As they recover, they are tested again before returning to work. The Trust has plans to hold a vaccination camp for the workers, but this is currently on hold as there is a shortage of the vaccine. As soon as the vaccine is available, we will provide this service to those workers who have not already been vaccinated.
As we reported earlier, the local Government Health Authority has requisitioned Meherabad's Hostel C as a Covid Centre. This has been operating successfully for the past 3+ weeks. The government health authorities manage everything concerning the patients, including food and medical services. When needed, the Trust also provides some medicines to them. The Covid Centre has 120 beds. At its peak, it has held 112 patients and currently, there are about 57. These are Covid-positive patients who require quarantine and monitoring, but not hospitalization. The Government doctors are closely monitoring the patients and if they determine the patient requires further treatment, they send them to the appropriate medical facility. Otherwise, they are generally discharged after 3-4 days.
A local medical officer recently informed us that Meherabad is #1 in Ahmednagar District for the number of patients discharged healthy from covid facilities. Clearly, the loving atmosphere of our Beloved Baba is helping these patients recover quickly.
The government has the authority to requisition any building and any number of buildings they require from registered charities such as the Trust. Due to the emergency nature of the situation, we were told on short notice that they were taking over the building. However, we have been able to ensure that safety measures are in place to protect Baba's lovers, residents and Meherabad.
The Trust is also providing a site for Covid testing. The government has set up a Covid Testing Centre at the Meherabad Farm (near the Memorial Tower) to provide testing for people in this area. The test is free and they can test approximately 100 people a day.
For our own residents staying on Trust property, we have an Isolation building for those who may need to quarantine themselves after possible exposure to the virus.
Economically, the lockdown restrictions naturally have impacted local people. By Baba's grace, the Trust has kept all its employees working and paid up to now. We were also able to help poor families in 5 villages in this area with distribution of grocery packages to families in need.
May these trying times help us all remember Him in our thoughts, words, and deeds, and remain surrendered to His Will.
In Beloved Baba's Love and Service,
Shridhar
Chairman,
Avatar Meher Baba Trust
"Covid Care Center" Entrance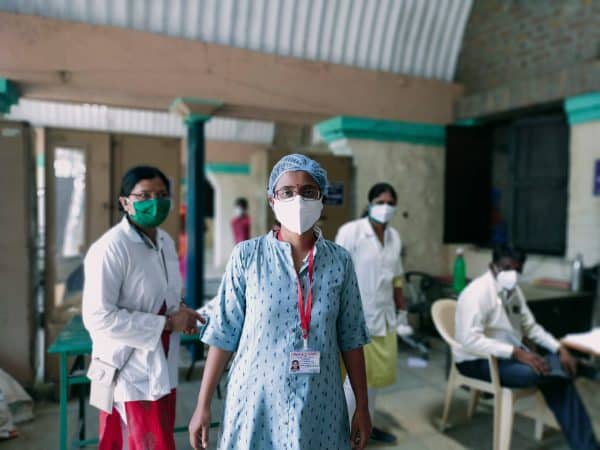 Staff inside the Covid Care Centre at Hostel C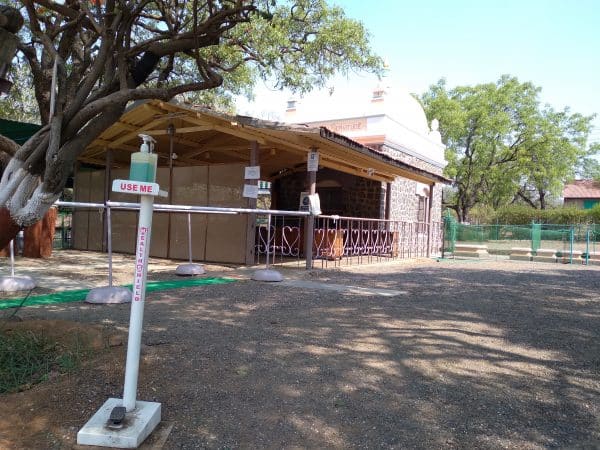 Quiet days at Baba's Samadhi