Medical care to the nearby community is an important avenue of service by which the Trust tries to bring the spirit of love into practical expression. Meher Baba himself incorporated medical clinics into many of his ashrams, and he identified the provision of medical service to the public as an object in the Trust Deed. Trust medical treatment is provided free of charge.
Meher Health Centre
This is the primary Trust medical facility, which provides basic out-patient health care for about 100 patients a day, most of them poor villagers from Arangaon village and the surrounding district. Common afflictions treated at the Centre include respiratory infections, bacterial and viral infections, parasitic infections, acute and chronic diarrhea, anemia, skin disease, wounds and injuries, and gynecological complaints.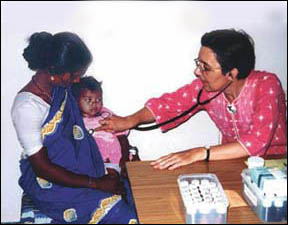 Village mother and daughter
receiving medical care.
Meher Pilgrim Retreat Dispensary
This outpatient clinic ministers to the medical needs of Meherabad pilgrims, many of whom hail from abroad and thus are unaccustomed to health conditions in India.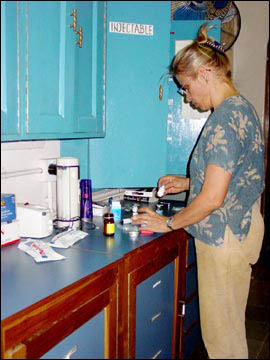 Nurse preparing medications
in the dispensary
The Meher Hospital
This facility hosts a broadening range of health services, including a free dispensary for Trust employees and their families, bimonthly cataract "camps" at which an ophthalmic surgeon performs ocular implants in the hospital's operating theater for about 60 patients a year, a biweekly dental clinic, and numerous medical programs. This does not yet function as a full-time hospital, it will be expanded into one as part of the Trust's Master Plan.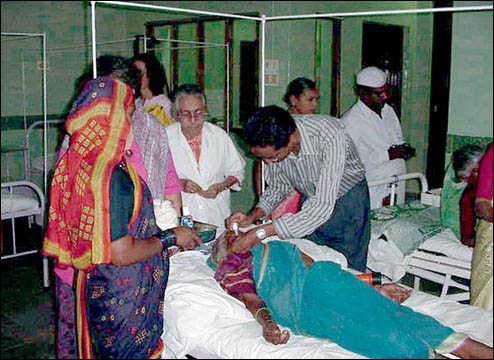 Patient being examined
after eye treatment
Laboratories
The Trust clinics work in conjunction with the Trust laboratories which each month perform 400-600 tests of various sorts.