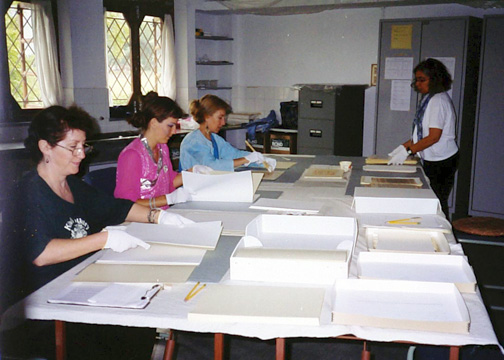 The items presented in this section of the Trust website are made available to all followers of Meher Baba, as well as scholars, researchers, and the general public. These will initially consist of image reproductions of written materials and photographs, and as time proceeds also include images of Baba's belongings, audio, film, and video clips. The sharing of these precious records of Avatar Meher Baba's life and advent with contemporary and future humanity is a very important part of the mission of the Trust's Archives and is offered in service to all who wish to access them.
Although copyrights in some of the content in the archive section are owned by the Avatar Meher Baba Perpetual Public Charitable Trust, others may also be owned by individuals and entities other than, and in addition to the AMBPPCT. This is particularly the case in correspondence and other written materials that were sent or given to Meher Baba or the mandali, as the copyrights for those may be held by the authors or their heirs.
All of the images presented on this website are compressed jpegs that have sufficient resolution for computer monitor viewing, but not for any other purposes. This also applies to the pdf format offered for download. Although you may wish to print some images for home use, please keep in mind that the resolution is not sufficient for fine printing and should not be reproduced for distribution or publication. The Trust Archives is endeavouring to make these materials available as quickly as possible, but our time and manpower resources are limited, so it is not currently possible for higher resolution versions to be made available. We request the cooperation of all who view and use these materials, to understand these limitations.
These archival materials have been made available for personal research, teaching, and private study in keeping with the principle of Fair Use. The responsible use of the materials on this website is welcomed, bearing in mind and guided by the care and reverence that the mandali (Baba's close disciples ) have had for everything and anything pertaining to him, which is the spirit in which the archival items are presented here. Those who avail themselves of these materials must be mindful of the limitations of their use. Some of these limitations derive from copyright law. Baba himself placed great emphasis on the importance of copyright, and the provisions he made in his Last Will and Testament regarding copyright were detailed and definitive. To read the will click here.
It is the responsibility of the user to establish who the copyright holder is for any given item and to seek the necessary permission for its use. We also ask that in any situation where the materials will be accessed by others, proper attribution of the source is provided.
If you have any questions about copyright, fair use, how to identify or contact copyright holders, or related matters, click here.