Dear Baba's worldwide lovers,
Due to the rapid spread of Coronavirus everywhere, including Ahmednagar, with great sadness the Chairman and Board of Trustees of the Avatar Meher Baba Trust have decided to implement the following precautions:
◊ Avatar Meher Baba's Samadhi is closed for darshan inside the Samadhi and at Beloved Baba's Threshold. Darshan can be taken from outside the Samadhi door. After taking darshan, pilgrims should leave quickly.◊ No one will be allowed to go inside for any reason (except cleaning supervisors), not even to participate in the Samadhi cleaning.

◊ There will be no gatherings, no prayers and no Arti, morning or evening, at the Samadhi.

◊ No one should bring any prasad or flowers or garlands to the Samadhi.
We are sure that Baba lovers around the world understand the extreme health precautions that are the response to this pandemic. The decision to close Beloved Baba's Samadhi until further notice is also prompted by the fact that throughout His Advent, Beloved Baba always expressed His practical concern for the health of His lovers.
As Baba said, "The only place that can hold Me is the heart. Keep Me close with you. I am always there."
Avatar Meher Baba ki Jai!
The Chairman and Board of Trustees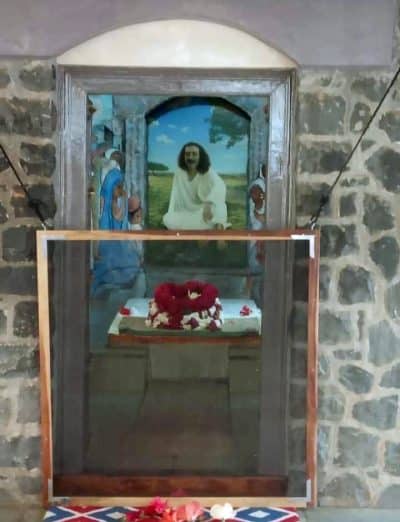 A transparent screen has been erected to prevent
entrance while maintaining a view of the inside.