BELOVED AVATAR MEHER BABA KI JAI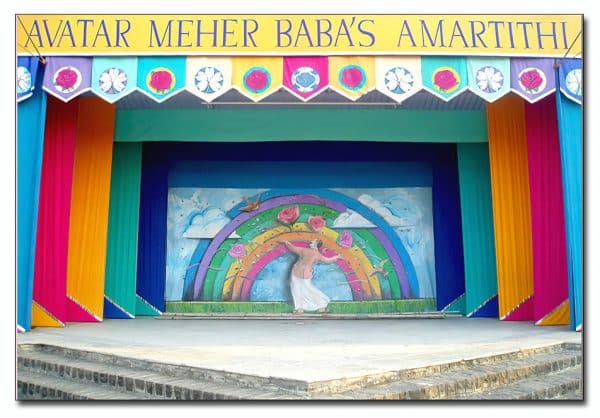 The complete webcast for the January 30th-31st Amartithi Virtual Program 2021 can be viewed on YouTube here:
https://youtube.com/playlist?list=PLHgX4D75Runw0DGImL9yrHNdpdilE-mlT;
Dear Beloved Baba's Family,
We come every year for the Amartithi celebration at Meherabad, and we celebrate for three days. But now, what has Baba done? We can see the Beloved's Amartithi on 365 days, and become intoxicated in His Love! Really, the Lord has made this arrangement for everybody. The Lord wants us to be with Him all the time. That is the Eternal Amartithi of Beloved Meher Baba.
Congratulations to all the beautiful performers and presenters who have honoured the Eternal Date of their Beloved with their love-offerings video-recorded in their homes, Baba Centres, or in special settings and sent to us via the internet. Avatar Meher Baba has made this possible!
On the Avatar Meher Baba Meherabad Streams YouTube Channel, Amartithi 2021 Playlist (link as above), the 31-hour program is divided into 18 numbered sessions of 1-3 hours each, and the fifteen minutes' Silence, which was webcast live from Samadhi. Sessions 1 – 7 are the January 30th program; Sessions 8 – 17 are January 31st. Session 18 is a Bonus Session for missed videos and other special items. All sessions are rich and wonderful! full of beauty, grace, innocence, charm, humour, reverence, energy, creativity, talent, heart, love for Avatar Meher Baba unbounded…Meher Baba Manifesting. A full updated Session Schedule is posted here:
AMARTITHI 2021 ONLINE SESSION SCHEDULE
When online in the YouTube Amartithi 2021 Playlist, after opening any session, (for example, Session 8 – Jan 31st 7 am to 9 am) – you may click on SHOW MORE to open and read the list of program items in that session. In the list, there are clickable time-links on the left for ease of finding and playing any individual items (chapters). "Chapters" is a new YouTube feature, thank you Baba! Each performance or item is a "chapter."
Or with the session open in Full Screen Mode (to avoid the YouTube distractions), you may run your cursor along the gray-red progress/time bar at the lower part of the screen to see the names and thumbnails of chapters in that session. Stop and click to play when you wish to.
"I STILL CAN'T FIND IT!" Here is an easy way, but it takes a lot of words to explain! If you are looking for something in particular and have no idea on which date or Session to find it, (or if you would simply like to see the full overview of the program), you may open the Amartithi 2021 Online Session Schedule, link as above, on your desktop or laptop computer.
• Click at the top of the page
• Hold down your keyboard "control/CTRL"key and press "f" key. A search or navigation box will open.
• In the blank space of the box, type in a name (such as "Biddu" or "Lisa" or Dyanashri") or a keyword (such as "dance," "Russia" or "Pune" or Telegu Arti"), and Enter. The page with the color-highlighted item will appear.
• From the color-highlighted item, you can look at the top or bottom of the page to see in which Session number the item appears. (for example, Session 16 – Jan 31st 7:00 pm to 9:00 pm)
• Go to the YouTube playlist (link as above) and open that Session (for example, 16). Then click on SHOW MORE and click on the timestamp of your chosen item, or use the progress/time bar at the lower part of the screen to move to that "chapter."
• For more than one search result, use the arrows in or below the navigation box to move to each highlighted item.
• Or simply start at the beginning and enjoy 'til the very end.
• Please contact Prashant at amartithihelpdesk@gmail.com if you still need help to locate a program item.
Meher Baba's worldwide family, though physically separated by the Covid pandemic, has gathered here in His Love. We hope you will dip again and again into this Amartithi observance-celebration to refresh and uplift, remember and rejoice in His Love.
For fifty-one years, He has called us to Meherabad, but now the Beloved wants us to remain at our home and enjoy the Beloved's Amartithi. Whoever has sent a video recording – everything is there in the virtual program. The Beloved never wants for anybody to get upset, and that's why He arranged this virtual program online! Now He is making everybody happy. The Lord suffered for everyone, but He doesn't want His close ones and His lovers to suffer. So now everybody can remain at their home and enjoy the Baba program.
In His Service,
Mehernath Kalchuri, Coordinator
with 52nd Amartithi Virtual Program Team.
Avatar Meher Baba Ki Jai!
I am the Divine Beloved worthy of being loved because I am love.
-Avatar Meher Baba