Mehera at Khushru Quarters 1923-1924
Flowers of night-blooming jasmine that grow in falling clusters of tiny white stars grace a little garden outside the rooms on the northwest side of the Khushru Quarters (Meher Nazar/Trust) compound in Ahmednagar. After sunset, the blossoms give out a sweet and powerful perfume. The heavenly scent of Cestrum nocturnum, known in India as Raat-Rani or Queen of the Night, wafts the imagination back to the first year of Mehera's life of devotion to Meher Baba.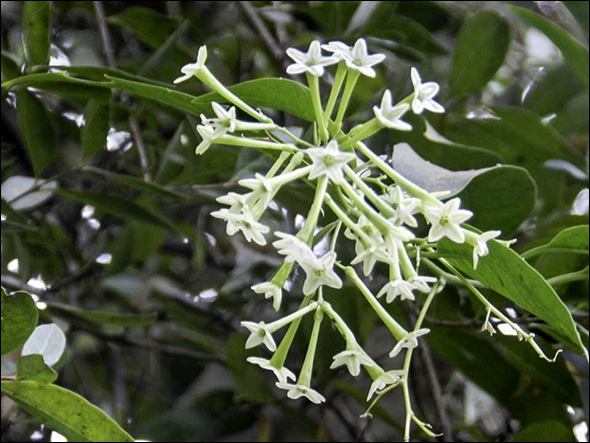 The night-blooming jasmine at Khushru Quarters.
It was here that seventeen-year-old Mehera, destined to play the role of "queen" among the women mandali, experienced a foreshadowing of her extraordinary life of seclusion, sacrifice and joyful concentrated labour for Him.
Mehera had first glimpsed Merwan at Sakori in 1922 and first had His darshan in May 1923 at Meherabad. She had stayed briefly, in late 1923, with her expectant sister Freiny at Khushru Quarters, and in May 1924, she stayed for a short time in Meherabad, during its earliest days.
When Mehera and her mother Daulatmai received Baba's call in Poona in August 1924, they locked up their grand home for good and came to stay at Khushru Quarters.
Here, Mehera and her young companions, Khorshed and Dolly, began their seclusion amid illusion—near the fashionable city centre, the ancient bazaar and the British military cantonment, surrounded by the chatter of all the Zoroastrian relatives who were living in the compound.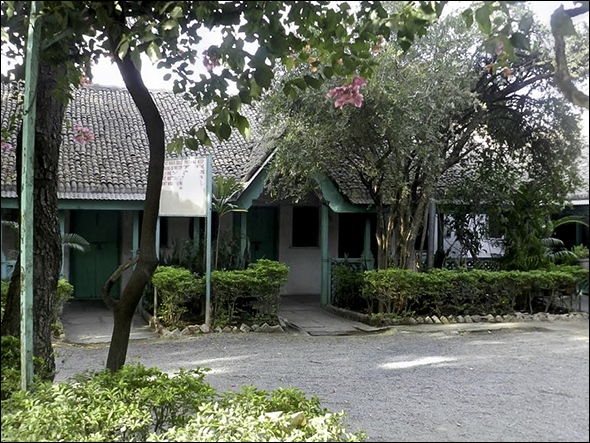 The rooms at Khushru Quarters where Mehera stayed.
When they were called to visit Baba at Meherabad, He was pleased to hear that they were keeping to themselves—sewing, drawing, writing or listening to Khorshed's stories of Manzil-e-Meem days under the shade of the trees behind their room.
Baba instructed them to spend a half hour daily gazing at a photo of Zoroaster, or of Him. Then they were to write a Zoroastrian name of God in Gujarati for one hour—Yezdan, Yezdan. … Every morning they meditated in this way, each in a separate corner of their room. Mehera recalled, "We were so happy to have our own beautiful orders from Baba." [1]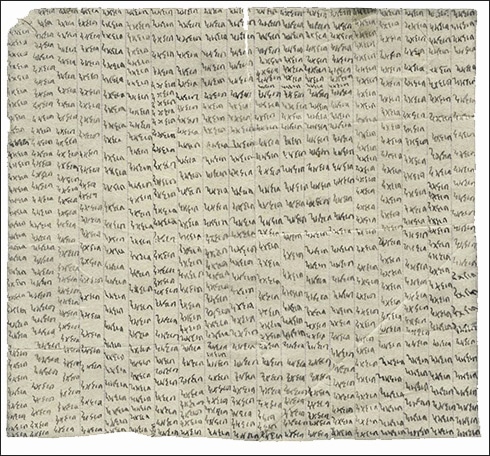 A page from the "Yezdan" writing.
(Courtesy of Avatar Meher Baba Trust Archives)
Later Baba told them to cut into tiny strips of paper each word of "Yezdan." He asked that some strips be made into pellets with water and wheat flour, as these would be good for the fish in the sea!
Baba asked the women to sew shirts in three sizes for a program for the poor to be held in nearby Arangaon village. Daulatmai brought the khadi (handspun and hand-woven cotton cloth); Mehera, Khorshed, and Dolly cut and stitched with three sewing machines. While sewing, they talked about Baba and sang His arti and other songs. They completed two dozen, then fifty, then over one hundred shirts as Baba encouraged them to work more and more, and faster!
Mehera reminisced, "Very lovely was the feeling of seeing Baba's picture, and then writing God's Name. This is how Baba taught us to concentrate and meditate. … Mornings we did our personal work, meditated on Baba's photo and wrote 'Yezdan.' And all afternoon we stitched shirts. Baba had our minds completely occupied." [2]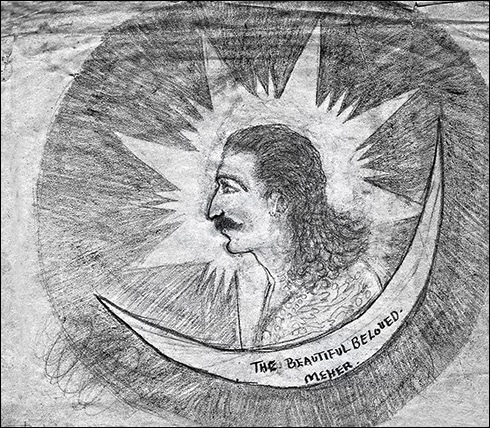 A pencil drawing by Mehera of Meher Baba done in 1924 while she was staying at Khushru
Quarters. (Drawing from the Trust Archives; cropped image courtesy of MN Publications)
Baba then called the women to Meherabad for the poor program. What joy they felt to leave the world behind, to be in that land vibrating with the sounds of His divine song, dholak-drum, and discourse, and to witness the happiness of the children and families of Arangaon who received the prasad of shirts and handfuls of Chura, a savoury snack, from His loving hand!
A few days later, Baba told them to bring all their belongings from Khushru Quarters and come to live in the Post Office building at Meherabad.
In the sacred corner of Meher Nazar where the Raat-Rani flowers bloom, the sweet fragrance of the early meditations of Mehera and the other women, of their happy surrender through work and remembrance of the God-Man, lingers on.
—Janice Rieman for Avatar Meher Baba Trust, 8 December 2016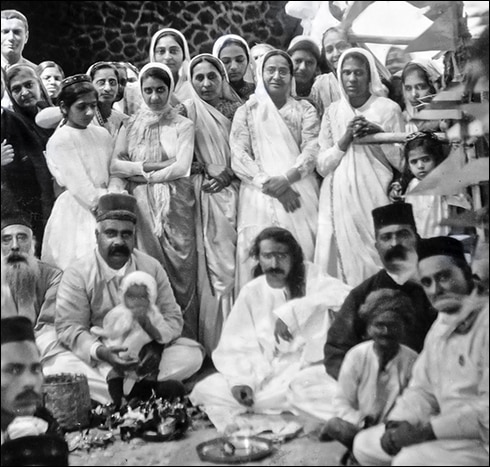 Disciples gathered for Meher Baba's 31st birthday in 1925. Mehera, gazing at Baba, is
standing center behind Baba's mother Shirinmai. Her mother, Daulatmai, is standing
on the extreme left. Dolly is the girl in white next to Daulatmai, also gazing at Baba.
(Photo cropped from the original, courtesy of MN Publications)
[1] Mehera, compiled by Janet Judson, page 56.
[2] Ibid, page 57.